Cotswold Granny.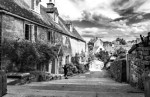 Cotswold Granny.
It's very nearly Christmas. Here at Mindfully Bertie we have a very special present for you. Our first book/booklet. Published in its 14 page entirety. Just as it was written in the fair hand of Diddley's Cotswold Granny. Entitled "Things I Remember". It's best read in her beautiful handwriting but, if that is a problem, there is a type written script further down the blog.
Margaret Long was born in the five valleys of Stroud in January 1910. Living until 2001, she was Diddley's Cotswold Granny. Her granddaughter had lots of stories about her, but this is Margaret's story when she was growing up in Bisley in rural Gloucestershire. High up in the Cotswolds; surrounded by the valleys of Slad, the Golden Valley and Toadsmoor. Diddley told Bobby her granny had given her this book, but Bobby had never seen it until he was going through her own memorabilia recently. Inevitably, being written in Laurie Lee's Cider with Rosie country, it is reminiscent of that era, but in fact represents a time probably a little earlier than his masterpiece.
She wanted people to know what childhood was like in her young days in rural Gloucestershire. Half a century later, Diddley's own roots were laid down there. Here is Cotswold Granny's story, interspersed with photographs from that wonderful part of the world.
Things I Remember.
Page 1
Page 2
Page 3
Page 4
(See: www.mindfullybertie.org.uk/category/frank-mansell)
Page 5
Page 6
Page 7
Page 8
Page 9
Page 10
Page 11
Page 12
Page 13
Page 14
Or better still. Here it is sung in traditional style:
Please click here for the link to the typed text of Cotswold Granny.
Lighting Candles to Diddley
Well here we are in front of that kitchen window. Its a big moment. This is the first time the Christmas decorations have come out of the loft since we lost Diddley. There's a lot in this picture. The bird table, so loved by the rat. The bird feeders swarming with goldfinches. A silent prism hiding its secret in the rain. A pathetic little Christmas Tree, when once they were ceiling to floor. A teddy bear angel. Robins galore. Loads of candles, including one that has never been lit in 18 years. A Christmas Wreath made by Bobby at the National Trust. A picture of a young Diddley, given to her by Amber. RIP. The red book, in which Bobby found "Things I remember". Betty Boop, with Diddley's favourite scarf keeping her ample bosom warm. Brooklands Bertie ready for the racetrack. Bobby 2. Me. But who is that other bear?
He is "Bear without a name". Bobby's shame. You think Bobby is nice, but he hasn't been to "Bear without a name". He came from the same shop in Dorking as me. Same year. 1991. But he has a problem not evident when he was bought somewhat expensively. Unlike me, he is stuffed with beads. They settle and so does "Bear without a name's" head. Making him look downtrodden and thoroughly miserable.
Over the years many bears have come on gone from Laurel Cottage. But, somehow, Bobby has never had the courage to get rid of "Bear without a name". He is a lovely bear, but needs to cheer up.
So next week we are going to give him his own little blog and a competition to choose his name. He won't be the prize! I'll think of something appropriate…
So "Bear without a name". 2018 is your year. Bobby is sorry.
---