Little White Bear.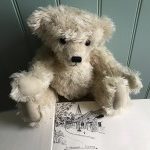 Little White Bear.
COMPETITIONS AFTER STORY. VALUABLE PRIZES!
Bertie: "Cor blimey. Wots the matter with you, Little White Bear?"
LWB: "You!"
Bertie: "Wot have I done mate?"
LWB: "Nothing. Nothing at all. We have lived in the same house and shared the same sofa most of the time and you have never spoken to me once. Why now?"
Bertie: "Well, I don't know what your name is, or even if you are a boy or a girl."
LWB: "That's it. Nor do I. I am a 'Bear Without a Name' (see The Kitchen Window) or Identity. Nobody cares. Bobby bought me the same year he bought you from the same teddy shop. 1991. He immediately called you Bertie. Took you to Scotland years later as best man when he married Diddley. Had all sorts of adventures that you never shared with me. And you even became chief mourner at the funeral. And now you are soaking up the love and praise in the other room with Bobby 2 and Betty, leaving me on this couch alone. Writing your own blog. Becoming more and more famous. While I sit on this couch without even a name."
Bertie: "The trouble is, Little White Bear, that Bobby never had a teddy bear. I was his first. His son, Andrew, started collecting posh bears in the 1980s and even called his first flat "Nutwood" after Rupert Bear.
If you read the first blog, it's all there. I am going to ring Andrew now and find out about those bears."
Andrew: "Yes, I still have most of them. In the loft."
Bertie: "WHATTT!!! Even Paddington?"
Andrew: "Oh, I sold him…"
Bertie: "Ohhhh. Ooooerr. Oh dear."
LWB: "No respect for a bear's feelings. In the loft! Sold. Slavery comes to mind. But then you're not much better ignoring me for 26 years!"
Bertie: "Right! That's it. You really are getting on my goat now. So I'll tell you the truth. Bobby thinks you are bleedin miserable (Sarf London). Always downtrodden. Cheesed off"
LWB: "It's not my fault. It's my beads. You have stuffing. I have beads. And not enough, it would seem, so my head droops. I am posher than you you know. And English. You are foreign. And common!"
Bertie: "Gor, love a duck! Whatever next. But there is one thing you should think about. There have been lots of bears here, but now it's just you and me. I think Bobby could warm to you if you made an effort."
LWB: "What about Brooklands Bertie? I cost ten times what Bobby paid for him!"
Bertie: "A toy. I'll tell you what. It's not good for my image, having you all grumpy about me. So come in here with us and I will make you an offer!"
It's true. I am becoming famous. And I have influence. How about me running a competition with my adoring followers? The entries can be judged by you to decide if you are a boy or a girl and what your name is? The winner gets a prize. A Bobballs!
http://www.keeltoys.com/ranges/bobballs/
and:
You can help me on some blogs, starting today as a model. So try to be cheerful and
You can help me rescue those bears of Andrew's trapped in his loft!
LWB: "All I really want is a Name. Being a boy or a girl doesn't really matter for a teddy bear. With a name, maybe people will start to like me. Maybe I will become famous like you!"
Bertie: "Maybe. But first, let's see how you look in some familiar settings in Laurel Cottage."
"Umm not bad.
…and now for a bit of promotional work. These may become blogs and are largely to do with Bobby's younger days. Not every week. But now and again."
"Not bad Little White Bear. You do have a certain appeal. But we must get you a name.
So, Dear Reader, please send your entry for a name, male or female, to the comments box or by email. Winner gets a highly desirable Bobballs.
PS
The Sad Bears of West Street revisited. https://www.mindfullybertie.org.uk/blog-for-betty-boop/. It's a year since we discovered the true story of the Sad Bears of West Street. Well, they are back. For Christmas only. Too posh to play with. Too tatty, too. Tattiness increases value…
This year I went down, with my elf helper Kyla, to see the Sad Old Bears. But recognised that there was a sad bear in Laurel Cottage. Waiting for a Name.
I Don't Believe It!
Best caption Cmpetishun!
Please submit entries to the comments box or by email. Winner wins the second Bobball.
Lighting a candle for Diddley at the Ramblers Rest.
At the Ramblers Rest, where Bobby first took me 25 years ago. His friends at the Legal and General had organised a redundancy party, but his wife at the time threw a wobbly so he took me.
So here we are. Twenty five years later. 2017. The Three Amigos. Totalling 113 years of service at the same office. 22 of them at the same time. Lighting a Candle for Diddley.
---
---