Covid-19 Guided Walk for One. Number 6: The Cleveland Way
The Cleveland Way
Each of those Whitby holidays was two weeks with grandchildren in August. The agreement was that Bobby had one day completely to himself. To walk along The Cleveland Way from Whitby. Either north towards Staithes. Or south to Robin Hood's Bay and Scarborough.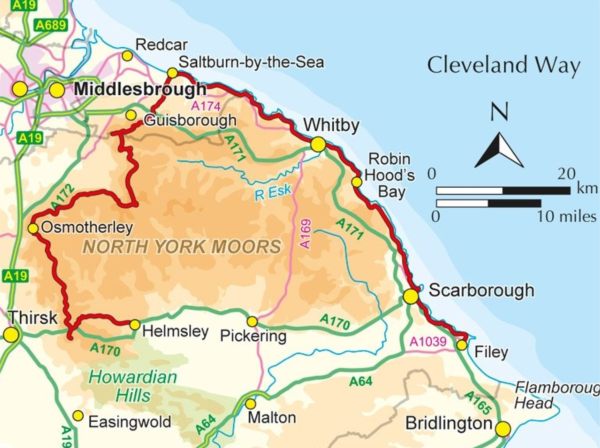 In more recent times, we have been back regularly to stay near Whitby. And this time he look me on the walk to Robin Hood's Bay. A distance of six miles, getting the bus back to Whitby. Once, when he was considerably fitter, he got the bus to Robin Hood's Bay and walked south all the way to Scarborough. A further fifteen miles. A map is shown above, but it's hard to go wrong. Heading north, keep the sea on your right. Going south, sea on the left. Well signed when the path deviates inland for short periods. This is only a small section of the Cleveland Way. "One day" you, maybe, or us, maybe, will go back to North Yorkshire as we did in 840 to Whitby …. by train to York and that wonderful bus ride to Whitby. We hope it survives. For now, it's just memories. Too far to drive up there on your own now.
The walk starts at the famous 199 steps up to the church and Abbey in Whitby.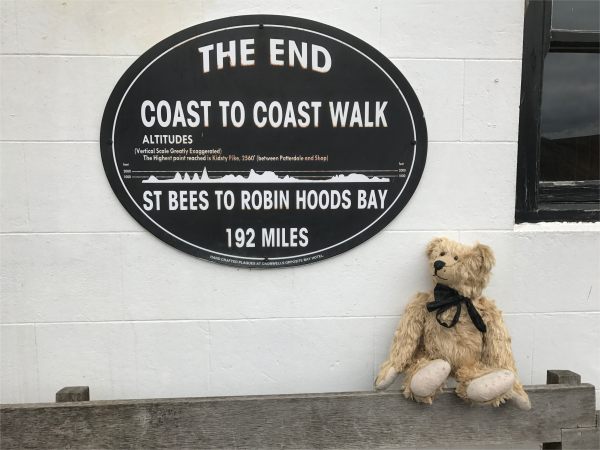 From here you can walk back to Whitby or do as we did and walk up to the top of the village and get the bus back. It's a glorious ride over the North Yorks Moors. But, if you really are keen, you can carry on south to Scarborough. When he did it a few years ago, he started at Robin Hood's Bay.
It's inevitable that everything here is pre Covid. We are desperate to go back to the North East. To Whitby. To Middlesbrough. To the North Yorks Railway and the Cleveland Way. We will go back in Mindfully Bertie to do the northern walk to Staithes. On another day.
Lighting a Candle for Diddley and for Layla.
It was fired and posted to us back home. She left it with Bobby for safe keeping these last ten years.
—————-
---