The Action Man Armoured Car.
Action Man.
The last of our August anniversaries is Andrew's birthday on 28th. Bobby's son. Born when Bobby was just 23. They lived in Carshalton Grove, in what was then the new Greater London Borough of Sutton and Cheam. In the same road lived Pat and Charlie. With their son Jonathan. Brother Matthew joined Jonathan a few years later. With two baby first born sons, the mum's became friendly – leading to a family friendship that lasted for many years. Looking back, Bobby was still a boy that had never really grown up. In Andrew he had the ultimate reason to carry on being a boy and never grow up. Ever. He had always loved aeroplanes. Making models, both plastic kits and flying ones. But now he had a new hobby. Making wooden toys for his son. Each birthday a new creation. A fort. A garage. A sailing boat. But then Action Man burst on the scene. Creating controversy in the marketing that you could not sell a doll to boys. Well they did. Millions. By now, Charlie was also making wooden toys for Jonathan. It became a bit of a competition. Culminating in the "world's very first boy's dolls' house". He couldn't make him a dolls' house, so he made him an Action Man Hut. Charlie made Jonathan one too. They were such a good idea that Palitoy, the makers of Action Man, brought out their own plastic hut. A pale imitation of the real thing!
But then Bobby moved his family to Dorking. There was no workshop for a while. Just a tumbledown greenhouse. He resolved to end the competition with the finest wooden toy ever made for Andrew. Something Charlie would not, or rather could not, copy. Something that was as much for Bobby himself as his young son. Week after week went by. Andrew would look out of his bedroom window to see his dad making something in the greenhouse. With only limited tools and experience, what arrived on his seventh birthday was beyond belief. And still is to Bobby today. Forty six years later. How on earth did he do it? It's quite simple. Love. He gave up the life he had been leading mostly and devoted his time to being the best dad he could possibly be. It suited his compulsive, obsessional nature. In doing so, of course, continuing to do everything he loved as a grown up child. On his seventh birthday he gave Andrew the world's first and only Action Man Armoured Car. The final accolade came over thirty years later, when Andrew gave his dad back his Action Man Armoured Car. But only to refurbish it for his forthcoming birthday! One or two minor bashes and a complete paint job. And here it is.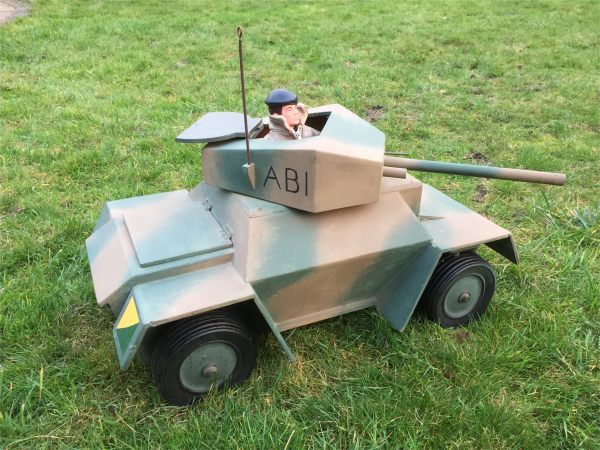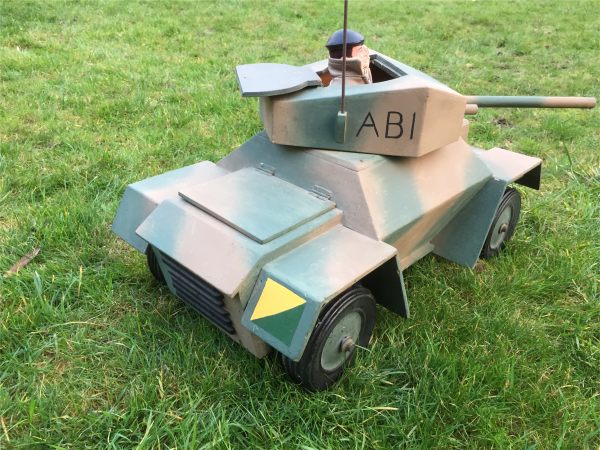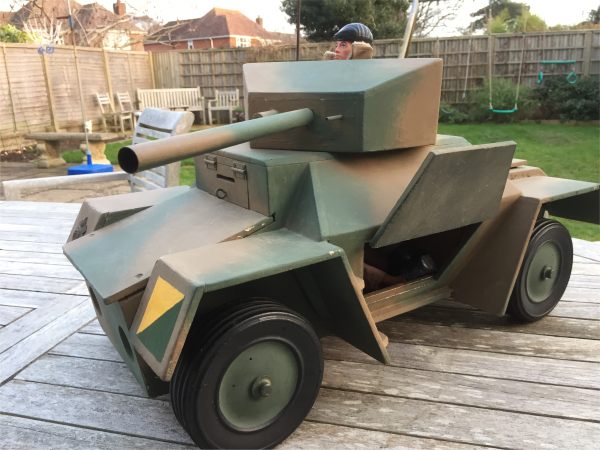 Bobby was not, and has never been, a proper model maker. He has no patience or skill now to even contemplate what he once loved doing as an enthusiastic amateur. Diddley flew in a Tiger Moth on her fiftieth birthday. Bobby bought a Revell 1:32 kit to reincarnate his hobby and has never made it. In JB he has a friend who is an expert model maker and can see the time coming when he asks him to make it for him. In Memory of Diddley.
Bertie: "Now listen, mate. It doesn't matter how you get on making that Tiger Moth, you really should make it. You bought it to commemorate Diddley flying in one. You have the perfect room at the bottom of the garden. Stop being a wuss and bleedin well make it! It's only been there twenty bleedin years!
Bobby: "I'll think about it, Bertie. I actually got the kit out today for these pictures. Where once I was pretty dynamic, now prevarication is my middle name. The gym and the countryside are my main interests now. Being grandad. Writing stories. The pandemic has created uncertainty. A walk in the Surrey Hills always lightens my mood. Maybe I should ask JB for advice after so long away from the model scene."
All those wooden toys still exist. Either at Andrew's or Laurel Cottage. Apart, that is, from the garage which, to Bobby's chagrin, was found a new home. Let's hope it's new owner appreciates how much work went into it. I wonder how many dads make their sons their presents now? It was already a dying occupation nearly fifty years ago. Nowadays, it is all electronic or plastic. Here today gone tomorrow.
The Fort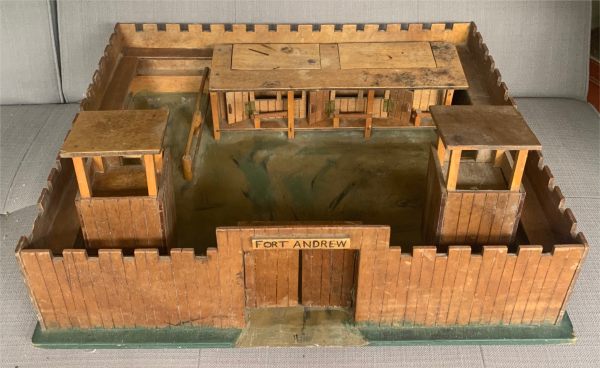 The fort was Bobby's big mistake. Even in his own childhood, Cowboys and Indians were disappearing from the play scene. Forts were the classic toy to make or buy when Bobby was very young. So he made one for Andrew.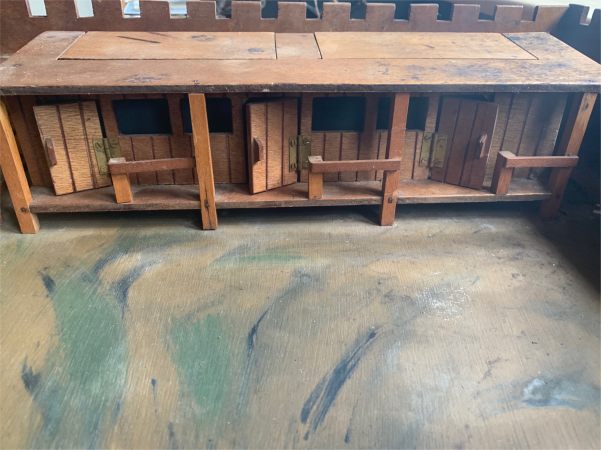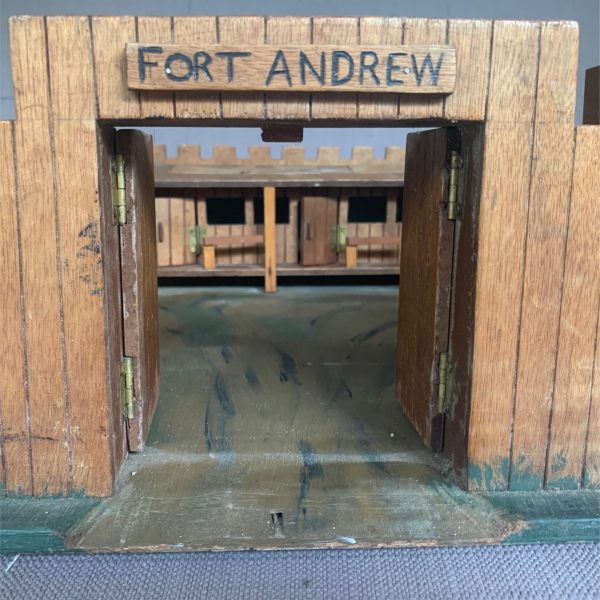 The Action Man Armoured Car lives for the moment in Andrew's loft. That's OK. With two lovely daughters, in Giselle and Daisy-Mae, there isn't much call for it at the moment. Not until, that is, we write the story of Action Man himself. For Andrew is a chip of his dad's shoulder and still has all his Action Men and their paraphernalia.
Notes
The armoured car cost virtually nothing to make. Just a sheet of top quality plywood and paint. A battery, bell push and small light bulbs for the lights. It was based on the frame of an old fashioned wooden baby walker.
The large gun was half inch copper tube, left over from plumbing the washing machine in. The machine gun and aerial were old net curtain stretchy rail. The headlights cut from tobacco tins. The bell push turned the headlights and interior light on, which meant they could not be left on. The cleverest bit was inside. The turret is connected to the body by concentric plywood rings. Mimicking the real thing. So Action Man could stand in his armoured car with the turret swivelling around him. Shells were half inch shaped wooden dowel. The military badge on the front is a button from Bobby's mum's button tin. And what about the plan? Well there wasn't one. It was entirely based on a Dinky Toy. This one!
PS
There is one other notable August Anniversary. In August 2016, we posted the very first Mindfully Bertie blog. Dream Island. A blog we are immensely proud of. It was the first. We had never written stories before and it is as good today as it was in 2016.
Lighting a Candle to Diddley.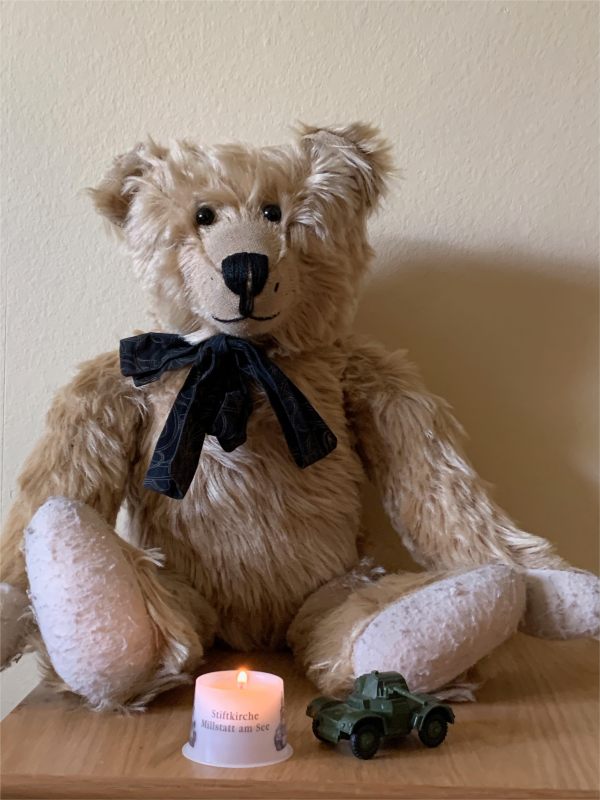 – – – – – – – –
---