Diary of a Heart Attack.
A Very Serious Event: Diary of a Heart Attack.
Bertie: "Can you see over there across the bay, Eamonn? That's Skomer Island."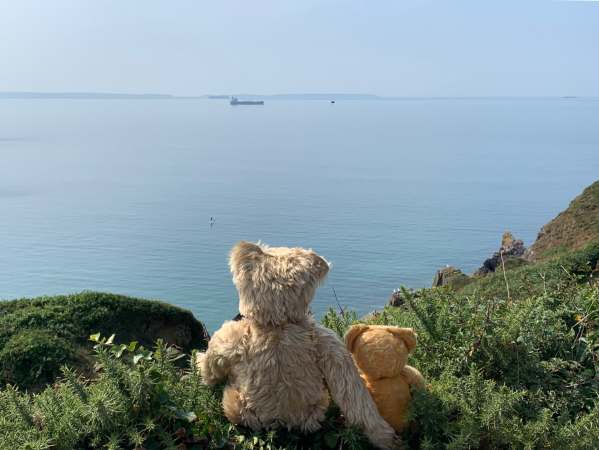 Eamonn: "Ahh, Bertie. Oi would love to go tere."
Bertie: "Well, Eamonn. When you came to us from Alice's Bear Hospital, we did promise you adventures. How would like to take my place this Saturday on a trip to Skomer Island and on Monday for a week on Skokholm Island?"
Eamonn: "Wozza! That would be feckin' marvellous."
Bertie: "To be honest, Eamonn, I could do with a break from Bobby and his constant 'rabbit rabbit rabbit'. And I 'ate being stuck in that bleedin' rucksack. Plays havoc with me mohair. All you have to do is write a story for Mindfully Bertie all about it."
Cue Chas and Dave:
Eamonn: "Well, Bertie. Oi luv Bobby's chatter. Proper Oirish. Can I have some Oirish music in it?"
Bertie: "Of course, mate. Diddley loved Irish music and we can think of lots of tunes. Apart from Shane McGowan. All he does is bleedin' swear."
Eamonn: "I am not having any feckin' swearing in my story, Bertie!"
Bertie: "Good. I'll have a nice week in Solva, with Rosemary."
---
Eamonn's stories are there, but are overtaken by:
A Very Serious Event
Diary of a Heart Attack.
Eamonn: "Bobby and I had a lovely time on Dream Island. There were glorious summer days. A big storm. Some spectacular wildlife sightings. All will be revealed, as promised to Bertie. But now, it's fast forward to a Very Serious Event.
Leaving at 09:00, we didn't realise how momentous it would be. Across a crystal clear sea, we left Skokholm behind and aimed for the middle of Jack Sound, that separates Skomer from the mainland. There were gannets, cormorants, shearwaters all wheeling around on a perfect morning.
The Dale Princess slid once more into the mainland cove of Martin's Haven near Marloes. Only five people had some seriously heavy luggage to get off the boat by human chain. Up the steep path and the steep road out of the cove.
Bobby soldiered on, until he had reached Lockley Lodge. The Gift Shop. Shut. Then, it started…
Over to Bobby."
A Very Serious Event
Bobby: "On Skokholm Island, we all human chained luggage and food for about twenty people. Some leaving, some arriving. Really heavy bags. Just five of us leaving. Wonderful crossing, but seriously killing getting all the gear off at Martin's Haven at the foot of the cove.
I walked up the hill to the visitor lodge, dragging a heavy wheeled bag and suddenly felt dizzy. Alison, another guest, and a family from Pembroke stayed with me. It got worse and worse. There was a seat. My eyesight started going. Couldn't breathe. Couldn't stand. Felt I was on the way out. Sweating. Could hardly speak. Alison rang 999. Took them half an hour to get there. They tried to get an Air Ambulance, but it was too far away to help. Real shame that.
"Well" said the paramedic. "You are having a heart attack."
"Can you take a picture for posterity?"
A GTN spray under the tongue gave some instant relief. Covered in electrodes for the ECG, I was wheelchaired into the ambulance.
It was 1.5 hours in a blue lamp, siren screaming ambulance across rural Pembrokeshire and flat out down the M4 to Swansea. Straight into the coronary unit at Swansea, where they quickly decided to fit a stent. Four hours after initially feeling ill. This will be a blog! Can't praise the NHS Wales enough. They probably saved my life. The pictures are in the ambulance. Even in dire straits I need pictures for a blog. They had given me something to stay alive for in the ambulance.
The ambulance screamed into the coronary care centre and I was quickly transferred to the waiting team of cardiologists in this amazing room, with mind boggling equipment. I watched on the enormous screen as they stented the blocked artery. Half an hour later, feeling a bit better, I was in the Intensive Care ward.
All procedures carried out in agreement with St George's, Tooting. The hospital that looks after other medical issues for my family.
So where do we stand? Here is the human heart: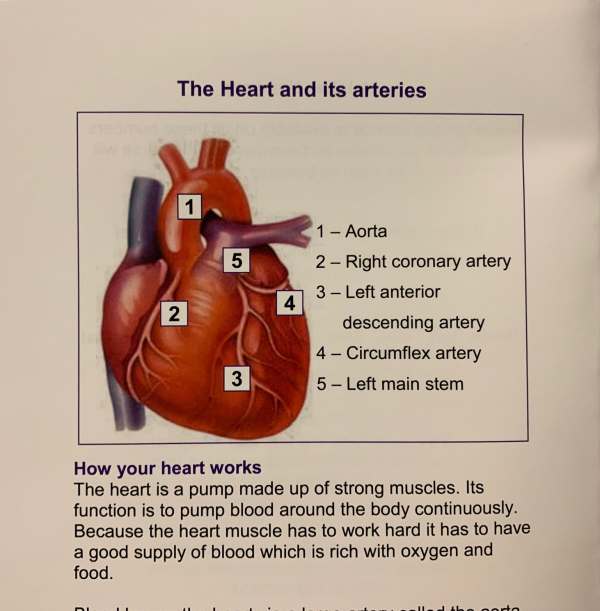 Three arteries. My right coronary was blocked. The stent procedure also sucked out the clot. I am told the other two arteries are showing signs of wear. So this could be the start of a journey.
At the time this was written we were still in hospital, having superb treatment by NHS Wales – including the Ambulance Crew from Haverfordwest. A mobile phone in hospital and free WiFi is an absolute godsend if you remember paying extortionate prices in the past for a rubbish, privately owned television service to each bed. And, if you had a choice, try the Morriston Swansea, where the nurses all speak with that lovely dancing Welsh lilt. I will never forget it."
Bobby was taken home the next day by his son Andrew. Less than four days after he had landed at Martin's Haven and had the Heart Attack. Traumatised by the whole thing, but realistic to realise he was lucky. An hour earlier he had been on the Island.
Bertie: "Teddy bears are all heart. But don't have the problems of humans. I am still with Rosemary in Solva, and it's very nice. But one day I must go home to Laurel Cottage. Bobby needs me."
Bertie's new friend!
The car is still near Skomer and will come back one day. Eamonn has lots of stories from Skomer and Skokholm.
We close on the obvious. What many well wishers have alluded to and I am telling him now…
You thought you were Superman.
Others treated you as though you were.
But, you are not. Just a tired old git, who talks too much.
This IS Superman:
Lighting a Candle for Diddley and NHS Wales.
Westlife:
– – – – – – – –
---