Three Days in Yorkshire – 2: North Yorkshire Moors Railway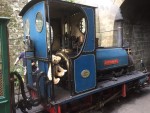 The North Yorkshire Moors Railway.
The second of our "Just Three Days".
Bertie… Last week, the blog was hijacked by Bobby's accident and days being looked after by the marvellous Ruth Myles unit at St George's Hospital in Tooting. We hope you enjoyed it nevertheless. It was a labour of love, as this one is. He is restricted to just one left finger and getting grumpy. So you have me to yourself this week.
It's Saturday morning on the second day of "Just Three Days" in Yorkshire. The sun is shining and we are looking forward to a whole day at the Autumn Gala of the wonderful North Yorkshire Moors Railway (NYMR). Staying in Ruswarp, a village on the River Esk, not far from Whitby and the first station on National Rail's splendid Esk Valley Railway. Whitby to Middlesbrough. Both Ruswarp and the Esk Valley line will be featured in the third of three days in Yorkshire.
Just four trains each way, each day. We are on the platform for the 08.50, which arrives pretty busy. Most passengers of a certain genre. Bobby is one. Ageing former 1950s/60s trainspotters. Reliving their schoolboy days, when trainspotting was a national obsession. A story to be told another day. Unsmiling, they sit there in grim determination for what the day holds. Rucksacks replacing satchels. Cameras instead of notebooks and pencils. Averting their gaze when they notice that one of their kind is looking out of the window with a teddy bear. This is no laughing matter. This is the Holy Grail. This is England's green and pleasant land. Assaulted by the industrial revolution when "Made in England" filled you with pride. This was when we ruled the world. This is STEAM.
Just two stations to Grosmont. Our train forks right, over the moors, after we have all alighted into a time warp. Grosmont, the headquarters of the North Yorkshire Moors Railway. A period station. Full of yesteryear. From the buildings in true Yorkshire grit, to the staff. Mostly volunteers. Many as old as the trainspotters. Dressed for the part; their pocket watches with chains shining in pride. Bobby would be one if he lived nearer. And finally, on a gala day, a mass of engines in steam pulling period rolling stock. Even a goods train!
We queued patiently at the ticket office for our day passes. £20 was it? No concessions, given the average age of the punters. And most importantly, the day's timetable. Not just for time, but for which engine was detailed for which train. Bobby and co headed for the first train to Pickering. Planning, en route, how to get the best journeys with their chosen engines. Some even Double Headers. Two engines on the train. Inevitably it usually goes pear shaped when an engine conks out and the timetable with it. But who cares when you are living the dream. In and around a steam railway.
Galas and special events are important money earners for heritage railways like the North Yorkshire Moors Railway. They often bring in famous engines from other railways to encourage visitors. All sorts of special events. From the massively important Santa Specials, to Wartime, Fish and Chip, Real Ale specials and not forgetting Thomas the Tank Engine. He has inspired a new generation of steam train lovers who never knew them in their prime of dirt and soot.
The NYMR had brought some visiting engines in. Most unusually from the Ffestiniog narrow gauge railway. Running through a tunnel to the engine sheds. The tunnel, now a foot tunnel, originally built for the first railway to Pickering that was horse drawn.
You don't have to stay on the railway all day. There are wonderful walks from the stations. In particular, Goathland. From which you can take the Railway Walk through glorious countryside back to Grosmont. Goathland, aka Aidensfield, of 'Heartbeat" fame. The long running television show set in the 60s with Nick Berry, the original village policeman. Still attracting coaches and sightseers. But remarkably unspoilt.
Remembering, of course, Buddy Holly.
As the morning and day drew on, the families came to far outnumber the trainspotters for a lovely day out on the railway. From nowhere to nowhere with nowhere in between? You could say that. But, those smiling faces soaking up the atmosphere, and the sound and evocative smells of steam would tell you otherwise.
The Spring Gala will be over two weekends in May. We will be there. How about you?
Steam in Yorkshire
Lighting a Candle for Diddley.
This week's candle is lit in Laurel Cottage, in recognition of the higher power that led to opening a drawer of memorabilia this morning. Masses of it. But there on top, without a word of a lie, was this card. For an earlier incapacity. So typical of the creative lady I adored. Those who knew her well will never forget her handwriting.
---
---