Queen Mary's Rose Garden.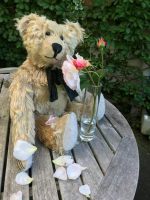 Queen Mary's Rose Garden. Regent's Park, London.
Queen Mary's Rose Garden in Regents Park is a world-famous garden named after the wife of King George V. In 1932, when Queen Mary's Gardens opened to the general public, the first superintendent planted a rose garden, which was completed in 1934.
Gloire de Dijon

When she rises in the morning
I linger to watch her;
She spreads the bath-cloth underneath the window
And the sunbeams catch her
Glistening white on the shoulders,
While down her sides the mellow
Golden shadow glows as
She stoops to the sponge, and her swung breasts
Sway like full-blown yellow
Gloire de Dijon roses.

She drips herself with water, and her shoulders
Glisten as silver, they crumple up
Like wet and falling roses, and I listen
For the sluicing of their rain-dishevelled petals.
In the window full of sunlight
Concentrates her golden shadow
Fold on fold, until it glows as
Mellow as the glory roses.

— D H Lawrence
The rose garden is London's largest collection of roses, with approximately 12,000 roses planted within the gardens.
We are so lucky In having a capital city that has so many parks. But, at present (beginning of June), the rose garden in Regent's Park is unforgettable. Roses are not the only flowers and the whole garden, just a short distance from the busy Marylebone Road, is an oasis of beauty.
We dropped in for half an hour and fell asleep in the sunshine with the scent of roses wafting over us.
So, enjoy our virtual tour of Queen Mary's Rose Garden – and try and imagine the scent!
Lighting a Candle to Diddley
We were going to light a candle at Holy Trinity Church, Marylebone, close to the Park entrance. Not noticing the sign board that said "One Marylebone". We rang the doorbell and a very nice chap came down to tell us that this was not a church any more, but "a private event space".
Built in 1828 by Sir John Soane, the architect whose own home is now a famous museum in Lincoln's Inn Fields. It is one of the so called "Waterloo Churches", built with Parliament funds to celebrate the defeat of Napoleon. By the 1930s it had sadly fallen into disuse and neglect. Newly formed Penguin Books used it to store books in the crypt. Delivering them down a children's slide. They moved out in 1937 and other organisations have used the building until today it seems to have found its feet again by becoming "One Marylebone" A posh event space. Weddings and so on.
Go to www.one-events.co.uk/marylebone to see what you can do to preserve a building that nobody wanted.
We couldn't light a candle there and chose one of Laurel Cottage's roses instead. "A Shropshire Lad".
---