The Kitchen Window.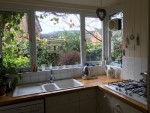 The Kitchen Window.
But first. Here is our Christmas card for 2017. Bobby was going digital, but realised he liked the tradition of sending cards. There are so many ways now of personalising cards that you don't have to buy the packs of really boring cards. The charities are complaining that they are missing out. But we hear that only a small proportion goes their way anyway. And there is the question of misrepresentation as a result. Whatever – here's the electronic version of Mindfully Bertie. If you don't get one through the post, let us know.
Diddley loved The Kitchen Window. Within Laurel Cottage, the kitchen was her domain. Bobby had given her a kitchen she was proud of. Until she found out from the fitter that the sales person's gruff voice and hairy legs was indeed that of a tranny. Ha ha ha. Bobby knew his place, and didn't overstay his welcome, which made things a little difficult at first when it became his domain.
She loved the view from the window of Redlands. The hills to the west that glowed golden in the autumn or indeed red on early morning sunrises. The view enhanced by their shared love of garden birds. The expectant wait for the first Siskin in January. Before that, the relatively recent change from peanuts to sunflower hearts as the chosen delicacy of the birds themselves. The amazing explosion of goldfinches that now dominate at this time of year until the Siskins arrive. She was keen on the old bird table as well, but last spring a precocious rat paid regular visits. Even trying to outstare Bobby through the window. So this winter we have an experimental feeding station, where most of the debris is caught in the dustbin lid. No rats or squirrels… so far. For this story a picture of one of our more exotic daily visitors is attached. A great spotted woodpecker. Sometimes with its mate.
Coming inside its fair to say that Bobby's interest in the bric a brac windowsill extended only to putting them back in the right place after cleaning the windows. In deciding to write this story he washed all the washable pieces and put them back. Much as he had done two years ago and inadvertently discovered one had magical properties that had never been revealed before. Magical to some but not to a twelve year old schoolboy of Bobby's generation. Some of the others were more interesting than he had realised. So we now move onto:
Bric-a-brac Windowsill.
Number 1
Number 2
Number 3
Number 4
Number 5
Number 6
Now we are talking. Something with traceable history. A pop bottle from those days when firms supplied their drinks in their own glass bottles. This one Nibletts from Stroud and Cheltenham. The Cotswolds, where Diddley came from. A firm that subsequently moved to Swindon.
The premises in this Swindon screen print is dated 1890, after the firm had moved there. Which makes this bottle older than that.
Number 7
What memories these corn dollies bring back. Bought as part of a Christmas set in Bratislava's Christmas market in 2005. The Little Adventure Club, through which Bobby and Diddley, working together at the Highways Agency, went on many exciting small holidays. The club still exists, as do many of the original members. Including Kat, from Slovakia, who encouraged us to visit her homeland. Times change, but we hope there will be more adventures in the future. Bratislava is only 30 miles from Vienna. Yet at one time a world apart from Vienna in the west to Communist Eastern Europe. Naturally we went there too for one of their many Christmas markets.
Number 8
A time for magic at the kitchen window. Or simply physics. Class 2X, Sutton County Grammar School. Refraction of light. 1955.
So there you have it. A handful of bric-a-brac that turns out to have a story with memories, history, education and the beauty of the natural world.
PS
Just last Friday, Bobby was in one of his favourite London haunts. The café of the London Transport Museum in Covent Garden. An hour to relax before meeting his friend Anne at St Martin's in the Fields. A choice between a plastic seat or his preferred iconic London Transport moquette. So familiar to bus passengers. The only moquette was next to a young lady intently writing in her notebook. A lady from an exotic foreign land – or just New Malden. Catching her attention, he nodded towards the seat. She smiled and nodded back.
A cup of tea and a cake. Despite the Christmas hubbub of a very popular shop and venue, it was so relaxing. Mindfully almost and he nodded off. Waking with a start he realised an hour had gone by. The young lady, seemingly oblivious, was still writing. And then he noticed her camera and was "compelled"… to ask her. (Now now!). About her camera. She asked if she could take his picture. "Ooo yes. Can I take yours"?
Han A Lee from South Korea. Loves travelling on her own and writing. She prefers her trusty Nikon film camera. She now has a Mindfully Bertie business card and promises to read this blog to see herself associated with an English teddy bear called Bertie.
Lighting a Candle to Diddley.
She loved candles. Loved lighting them in churches. Always bought tea lights on those terrifying trips to Ikea. And had lots of candle holders. Including this simple little one on the kitchen window sill.
——————
---