Wisley Christmas Eve: Mindfully Arboretumanally
Mindfully Arboretumanally
As Bobby struggled with the life he was leading a few years ago, he turned to mindfulness to see if that would help. It did, particularly when practised in a group of people. Some time later, he mentioned it to the Gentle Author (GA) and also that this best friend was a teddy bear called Bertie. The GA suggested it would be a good name for the stories he was contemplating writing. And Mindfully Bertie was born.
He carried on his mindfulness sessions with a group of friends led by the admirable Estelle. And, by coincidence, he has just "Zoomed" into her house for the January meeting of the group. An hour that transported him into that world where you concentrate on breathing and try to forget the outside world. He tells me he always feels a lot more relaxed after.
You must forgive my English in the title "Mindfully Arboretumanally", but teddy bears can say what they like when they need to get a point across. And this point is that anyone can do mindfulness. In fact, you may already practise it subconsciously if you have that kind of nature. Otherwise you may have to learn the principles. Go on a course. Try it. You may be surprised how simple it is.
Bobby was reminded of this when he went to Wisley Gardens on Christmas Eve. One thing that has come out of the restrictions imposed by the pandemic is the popularity of what you can do within the "Rules". The Royal Horticultural Gardens at Wisley remain open. Numbers are limited by advance booking online only. As a member, he used to go a few times a year. Now he goes every single week. This has led to a much more relaxed walk round the gardens. Discovering parts he had never been to before and having no plan or expectation whatsoever. A truly mindful way to spend Christmas Eve.
Mindfully Arboretumanally
24 December was a glorious sunny morning. The gardens looked entrancing and so he headed for the arboretum to sit by the river. Wrapped up warm, the idea was just to sit there and watch the water slip by. Maybe he would see a Kingfisher? Maybe not. It didn't matter. Breathe in the cold morning air and be grateful to be alive. An hour slipped by and he didn't see the elusive Kingfisher. The mythical halcyon of the river. But he did see some other creatures that happened to pass by.
Bobby's Favourite Tree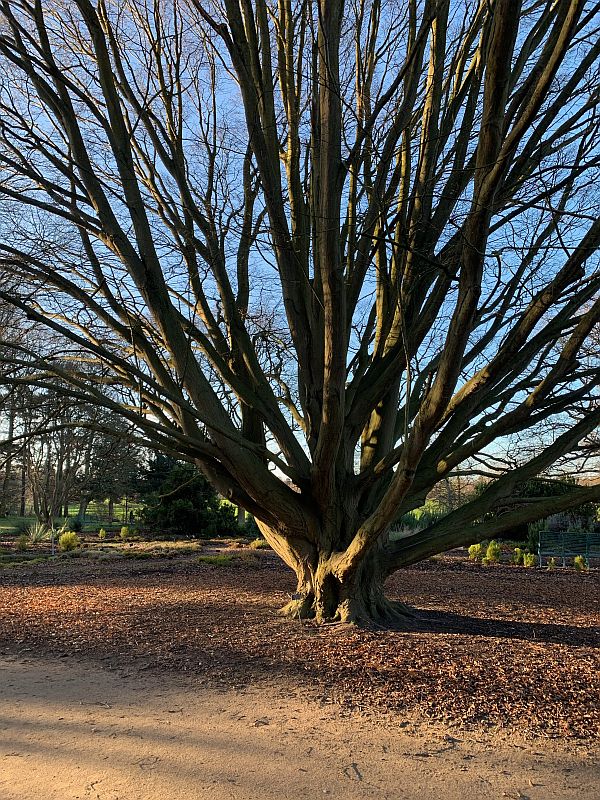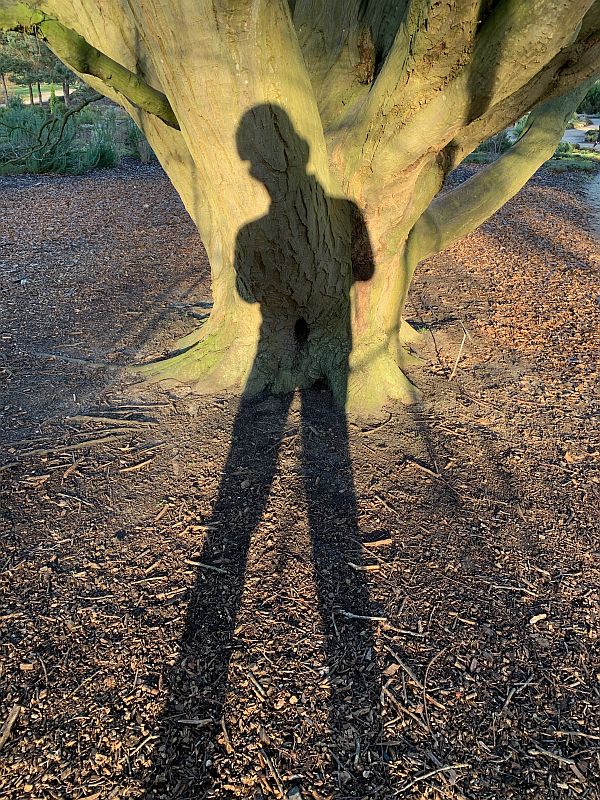 By now it was time for a picnic. Socially distanced by the lake.
On he walked, across the gardens and found another Arboretum. The Jubilee Arboretum. Opened by the Queen and Prince Philip in 1977.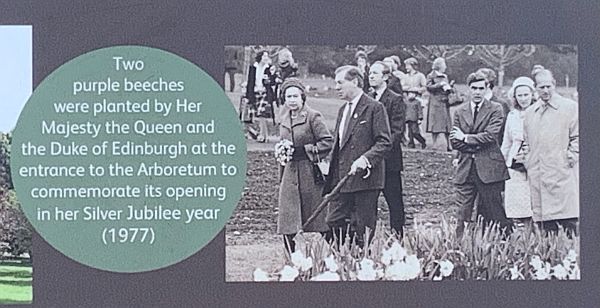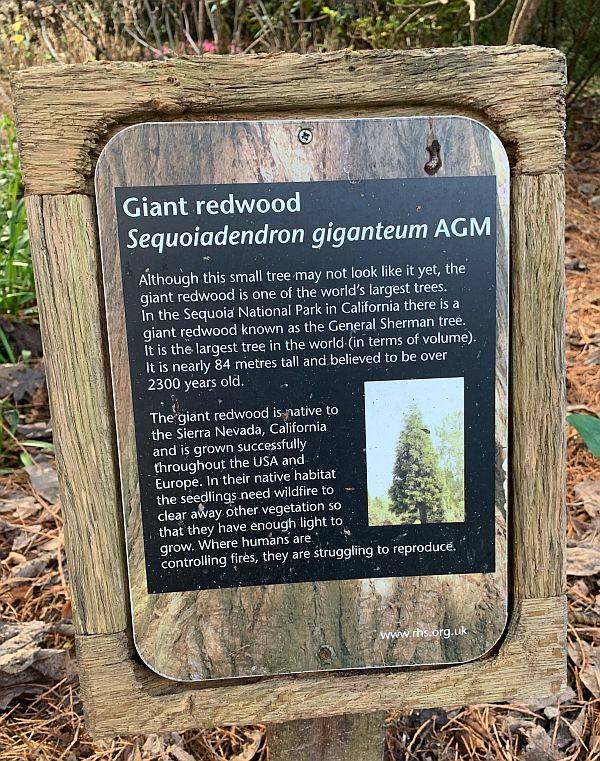 And finally into the woods on Battleston Hill
Gardens in mid winter often have flowering shrubs with the most wonderful scents.
And so to the end of a wonderfully relaxing, mindful day.
This story was written after tonight's (4 January) mindfulness evening with Estelle and friends. The pictures had been taken on Christmas Eve. The library bird pictures screen printed tonight. We had booked tickets for Wisley Gardens tomorrow. But now we are once again in National lockdown.
Stay safe. Stick to the Rules. Pray if praying is your thing and we will all meet one day soon at Wisley Gardens. Until then, Mindfully Bertie will carry on trying to entertain with stories about who knows what?
IMPORTANT ANNOUNCEMENT: Wisley remains open for exercise for those who live close by. 14 miles is not nearby and, in any event, is not within the spirit of the lockdown. It is not the end of the world. We are surrounded by the Surrey Hills and can walk in many places virtually on our own.
Lighting a Candle for Diddley
Once again, Bobby's wonderful friend Anne and her husband Kevin have offered to do his weekly shop for him. Throughout the first lockdown she did all his shopping. The agreement this time was that every time she did his shopping she included two bunches of flowers. One for him. One for her. She chose these Red Roses. Reduced to £2.50. How could he tell her that Diddley hated Red Roses and he had never brought them into Laurel Cottage?
Suffice to say, these beautiful blooms have brightened his life for just a few days in lockdown. Here's to whatever she chooses next week. Laurel Cottage just has to have cut flowers all year round. The last time he bought his own in Waitrose, the assistant said… "Someone's lucky!" He said… "Yes. I am!".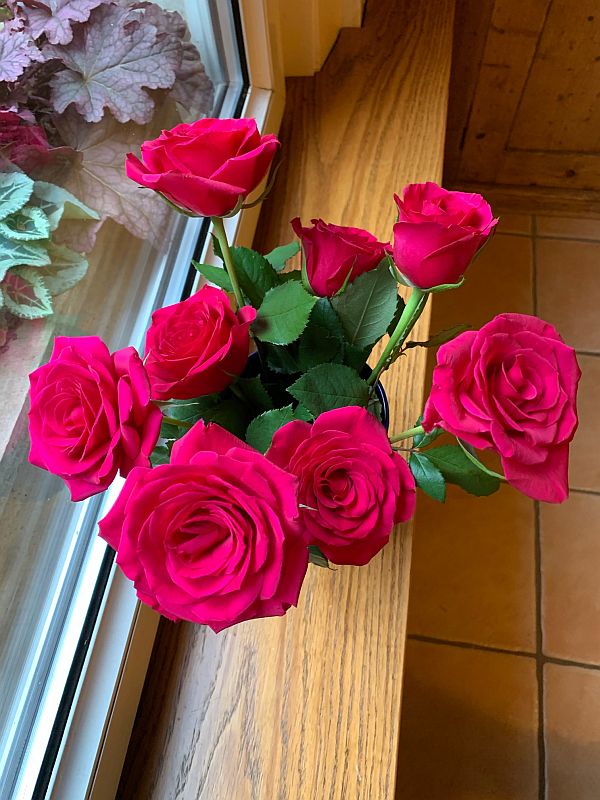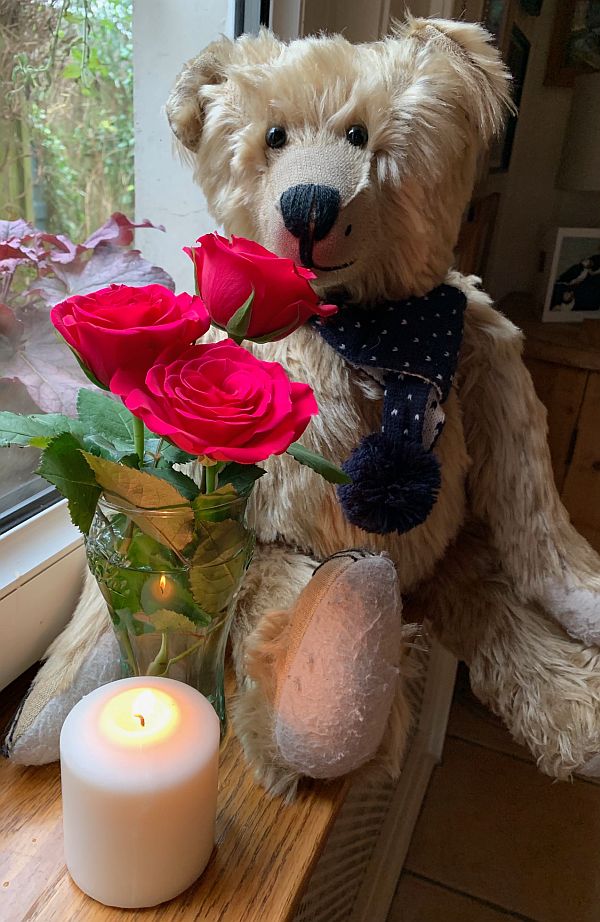 ——————
---