Little Pink Book Wot's in a Name?
Wot's in a Name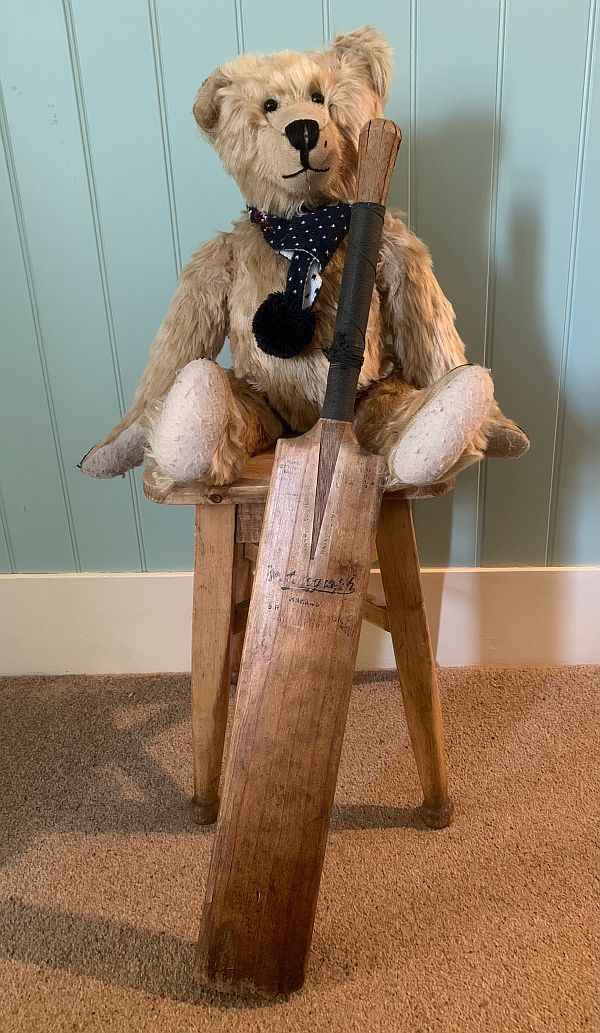 So here we are in 2021. If you got my free calendar… how lucky are you? If you didn't, you should have answered the offer last year! Demand is increasing for this very special bit of culture. So put your name down now for 2022.
And now we have reached the last chapter of revelations discovered in that Little Pink Book. Just two signatures are left with stories. Two more unfathomable at the very end. Just in case anybody has an idea.
The Little Pink Book was never used properly as an autograph book. Just the class of 1953 and two poems possibly written in the book in the 1920s. Maybe.
And two special signatures… Both nearly forty years before I came into Bobby's life. So over to you Bobby.
Mr Thumwood
Mr Thumwood was my favourite teacher of all time. Ask anybody you like what my favourite sport is and most will say football. They are wrong. Cricket is the game I truly love and all because of Mr Thumwood. In 1952, at 8 years old, I knew very little about sport at all. We didn't get a television for another six years. My Dad would listen intently to the football scores at 5.00pm on a Saturday. Check his Littlewoods Pools coupon and invariably say "Waste of bleedin time!". And then fill in next week's. I don't remember football matches being on the radio. But cricket absorbed him. Even to fiddling with his knobs on his big valve radio in the middle of the night to find the test match in Australia.
So at eight years old, I was more familiar with cricket. We played in the street with a tennis ball and rubbish bat and the stumps chalked on a wall. Until Mr Thumwood came into my life. We were asked to volunteer for his team. Over the next three years he turned that team into something I have never forgotten. He taught me how to bowl, for that was my forte already being very tall. Batting at No 7 was a risky business. When we started playing other schools, we were expected to wear whites. Something unimaginable in austere post war Britain. We looked so good that the other schools were beaten before they even started. One day I hit the peak of my cricket life and took all ten wickets at Malden Road School in Cheam recreation ground. I was a hero. I was Jim Laker or Tony Lock. The Surrey spin twins playing for England. I was even chosen for the District Cricket Team. Chosen from all the schools in Sutton and Cheam.
And then something wonderful happened. In a world where a present might be a Dinky Toy or an Eagle Annual. A world where I had never received a present at all from the relatives, Uncle George turned up. A policeman who loved cricket and played for the MCC. I was so impressed. Until later discovering that MCC did not stand for the Marylebone Cricket Club, the most famous in the world. But rather the local Merrow Cricket Club where he lived, near Guildford. He had evidently heard about my exploits with Cheam Park Farm Junior Cricket team from my Dad. And he had brought me…
A GUNN AND MOORE CRICKET BAT!
Not just any old bat, but the most famous make in the world. I was ecstatic and, despite being a bowler, I walked round the school on match days with that wonderful bat. Uncle George made me feel a million dollars. And I still have that bat. Old, fragile, knackered. Like me.
Bobby, Tallest. Middle back. Next to Mr Thumwood. Teacher's pet? Richard Baylis, far left, letting the team down with grey shorts, Captain Richard Kerslake centre between the bats. Posh cable knit cricket jumper. May have gone to Tiffins? Or was it King's College Wimbledon? This was the last summer, after which we all went our separate ways. I was the only one who went to Sutton County Grammar School.
That last summer, Mr Thumwood took the team to Lords, home of cricket, to see the Gentleman v Players match. Read about it here. It reveals how the class system still pervaded cricket at that time. Gentlemen were amateurs. Posh and unpaid. Players were working class and were paid. Gentleman went into the famous Long Room at Lords by the main entrance. Players by the side entrance. The two top County teams were Surrey and Yorkshire. Fred Trueman, one of England's greatest fast bowlers was a player. As a "player", he got his first England Cap before Yorkshire gave him his County Cap.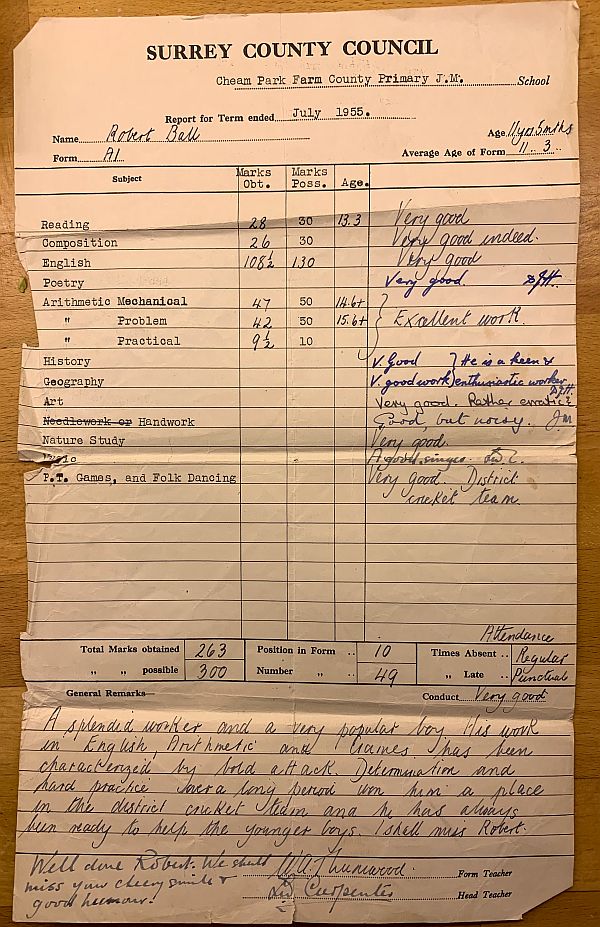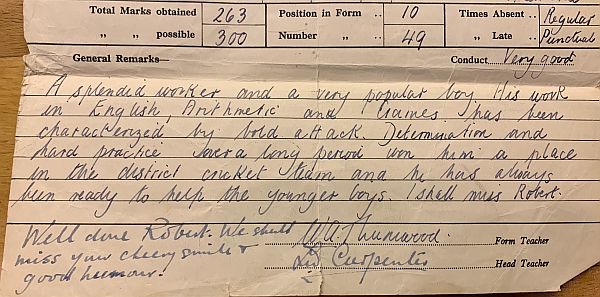 My mum kept all my school reports and I still have them. Signed by Mr Thumwood. My form teacher as well. By all means read what he said. It didn't last at the Grammar school. By coincidence, I have also inherited all of Diddley's school reports, which have a remarkably similar trend. Stars at Primary School. Cheam and Slad. Fading stars at Grammar School in Sutton and Stroud. In fact Stroud High School for Girls expelled Diddley shortly before she was leaving.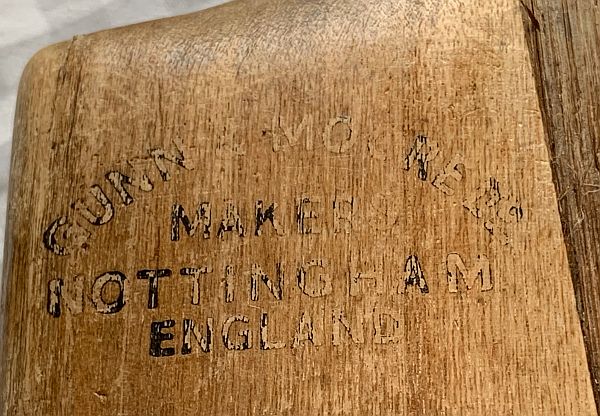 The current Gunn and Moore "Autograph" cricket bat today: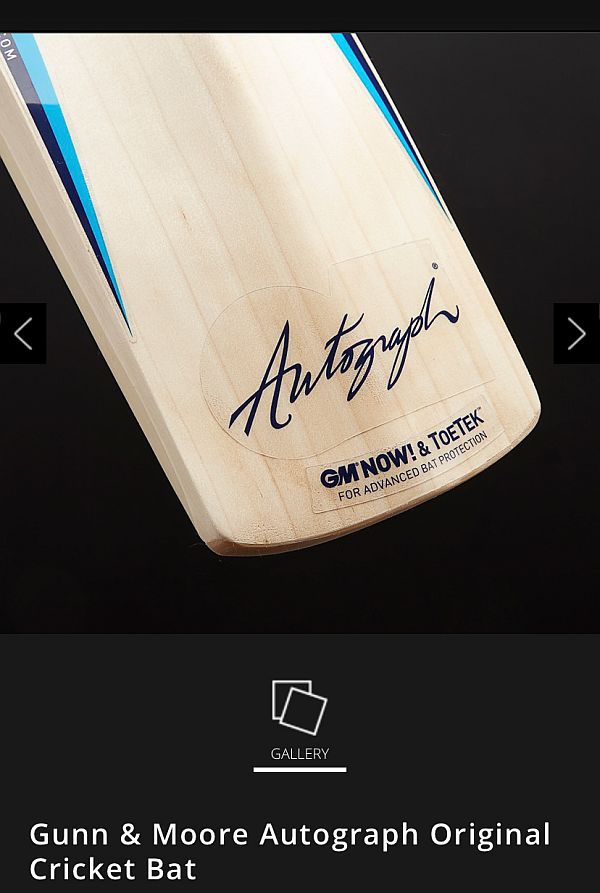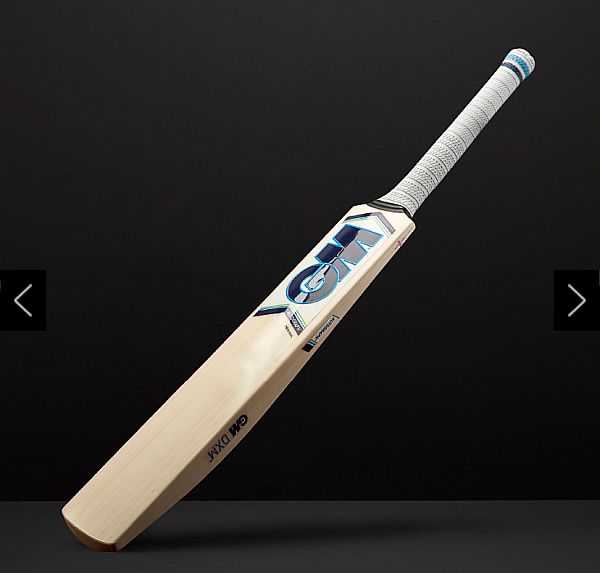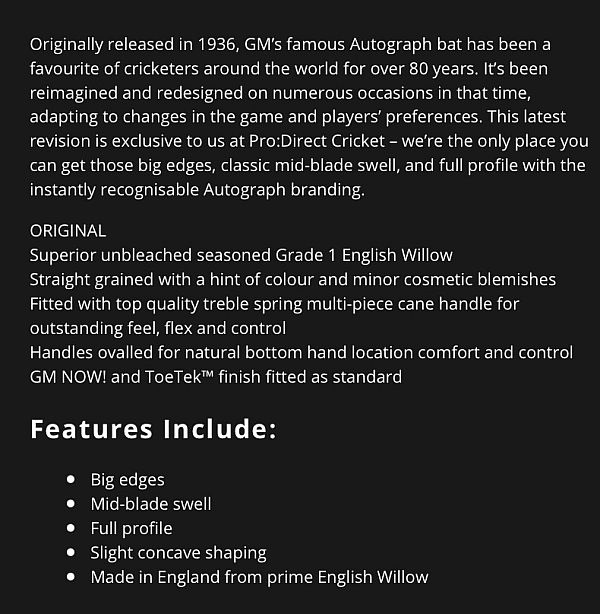 Sutton County Grammar School
And so I left Mr Thumwood and the primary school and headed on to the grammar school. The only boy from Cheam Park Farm to do so that summer. In the early years I loved Sutton County, but there was one serious casualty and that was cricket. Quite often when we write stories it suddenly dawns on us why it happened as it did years ago. And this is such an occasion. I did play in Sutton's cricket team, but quickly became just one of the team. Not the star bowler. Cricket can be a very disheartening game. Captains and Vice Captains can wield extraordinary power. I might play well one week and the next week spend the whole match languishing on the boundary watching the Captain's best friend bowl. Disillusionment followed and, by year three, I was no longer in the team and I gave up playing. And that was the end of my cricket career. I never played again ever. Instead I took up tennis. Rather badly, but at least I was playing.
The revelation is this. Cheam Park Farm School was built for the new private ownership housing estate that was built in 1934. The first occupants were from South London. Working class, like my mum and dad. Inevitably, all the children of those first occupants came from a working class family. Cheam Park Farm Juniors was a school for the working class. Sutton County was quite the opposite, attracting boys from every walk of life. The first day I started there I saw two prefects arrive in sports cars. They wore gold cufflinks. They could even give you Saturday morning detention. Cricket inevitably was largely the preserve of the posh boys. This is either fact, or the continuation of my working class chip on the shoulder. Reality probably somewhere in between. And, of course, I did end up playing with the working class lads in the school football team.
Sutton County was and still is a lovely school, but I can see why my mum and dad insisted I wore my full school uniform home to Brocks Drive. That cherry red jacket undoubtedly made them brim with pride. I was the third of their three children who all went to grammar school. My brother to Sutton County before the war. My sister to Nonsuch Girls School. Before we leave cricket, I have been to the Oval a few times lately. Including that memorable last match century by Alastair Cook.
And the last signature and most famous of all:
Charles Buchan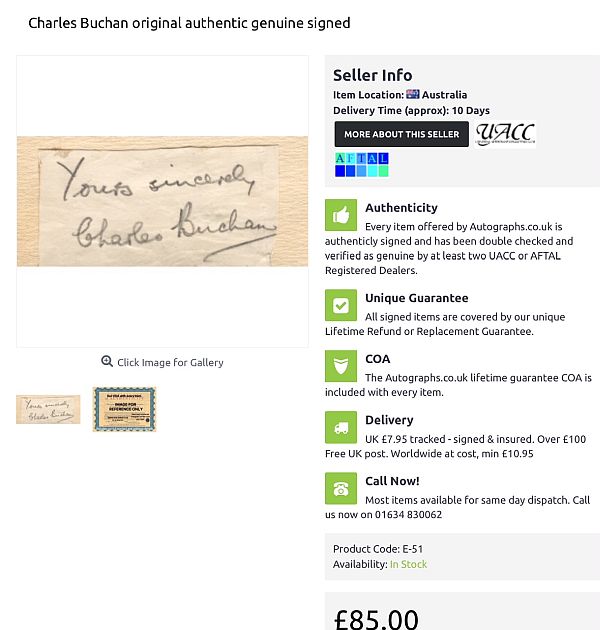 In 1955, my Dad took me to the Schoolboys Exhibition in London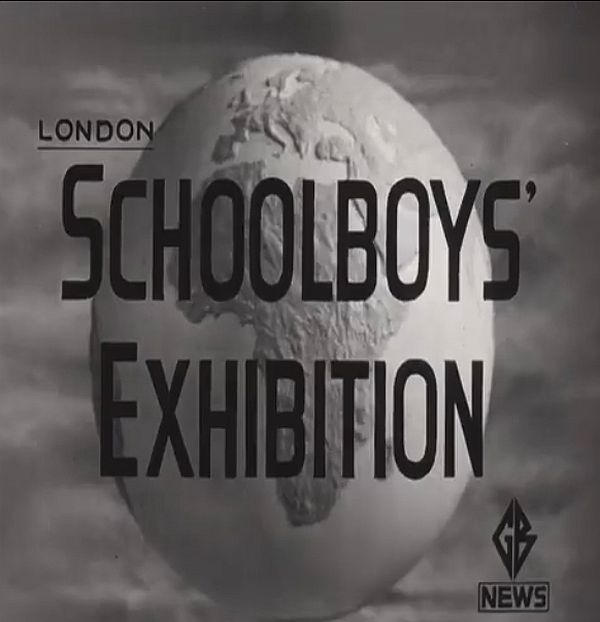 I loved those exhibitions in January at The Royal Horticultural Halls in Westminster. One year there was a smog and you couldn't see the road from the pavement. Another, it had snowed and ended up as the biggest snowball fight I have ever seen. Charles Buchan had a stand there for his famous football magazine and was signing autographs. I must have anticipated it in taking the Little Pink Book. Possibly Bill Hicks was associated with football.
Wot's in a name?
Bertie: "Have you noticed in reading these nostalgic blogs through the Little Pink Book that schoolboys seemed always to wear their school hats? Even the full school uniform to the Schoolboys exhibition. I guess it was their best outfit.
Have you also noticed the confusion over the name Robert? We spoke about it before.
In this blog, you will see even Mr Thumwood calling him Bobby, Bob or Robert. Nowadays, anything formal has to be Robert, for that is on his birth certificate. Throughout his life he has been Bob. Hating Bobby, until he met me. And the grandchildren. So in his old age he has gone back to his very young days and become Bobby again!"
And finally, it was a very popular name. Robert.
Who are they?
Lighting a Candle for Diddley and Gerry Marsden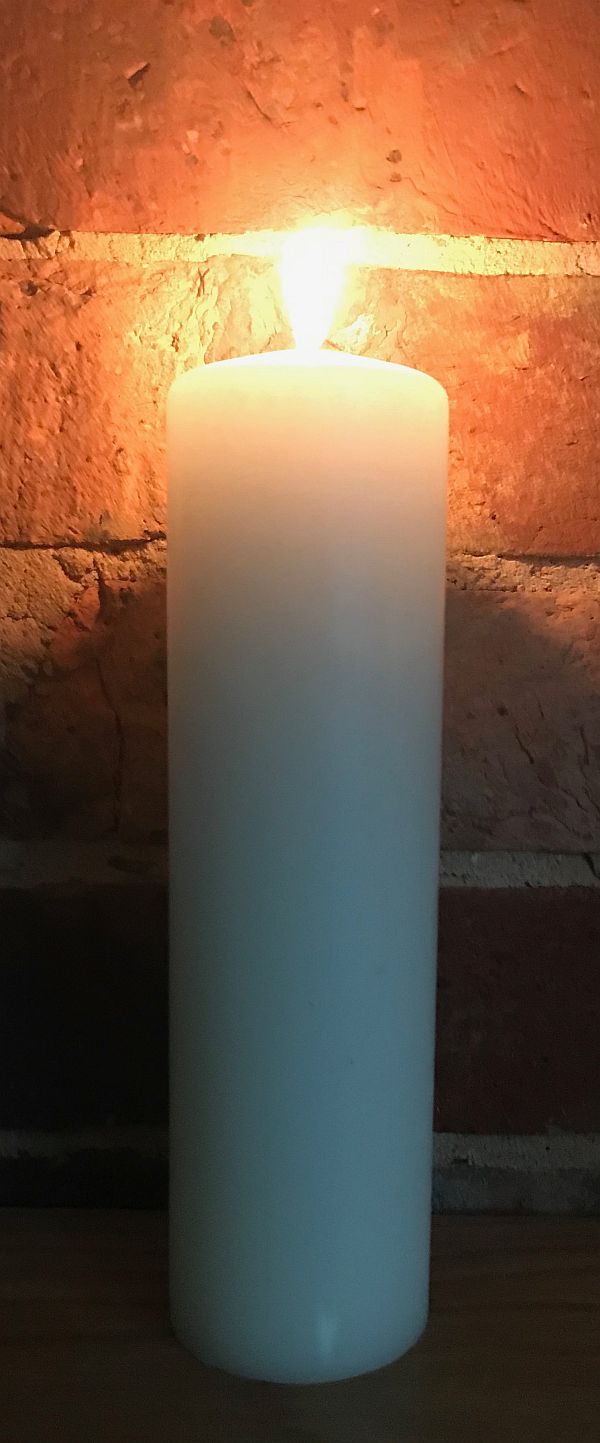 – – – – – – –
---