Yes! I Woz There! (Part 2)
I Woz There (Pt 2)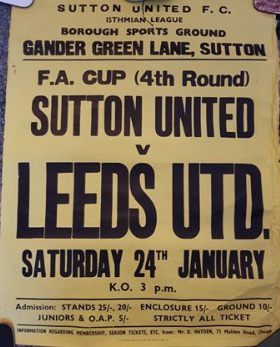 So said Bobby, looking back to fifty years ago on the 24th January 1970. Arguably the greatest day in the history of Sutton United. Not the greatest performance, when you lose 6-0 at home. But the greatest occasion, when a tiny amateur team was drawn against the best team in England in the FA Cup. Leeds United were top of the old first division. Competing in Europe. A team full of international players. Managed by the irascible but highly successful Don Revie. Who later became manager of England. A time when the FA Cup was the most famous cup competition in the world. A time when minnows could get drawn against the big clubs. A time he will never forget. And I Woz There! Over to Bobby now.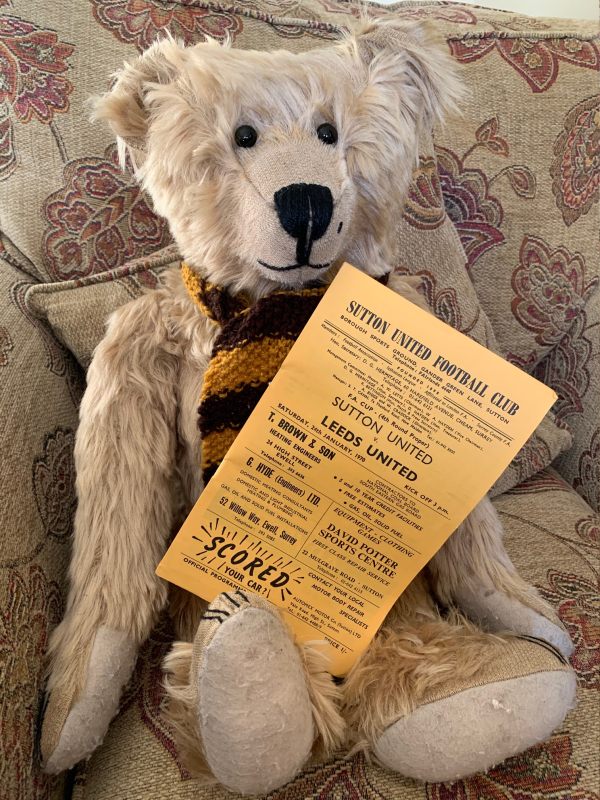 Getting to the third round was the holy grail of the FA Cup. Still is, in a diluted sort of way. That was the round when the big boys joined in. When a small club might get a chance of a big upset and a big boost to the finances. In 1970, Sutton did get to the third round and were drawn away to Hillingdon Borough. Another non league club. Very disappointing on the one hand, but a chance to dream of getting to the fourth round. A massive achievement for a small club. My interest centred on the player manager of Hillingdon Borough. Jim Langley. A favourite of mine when he graced Craven Cottage for many years. Home of my other favourite club. Fulham. I went to the game which was drawn and replayed back at Gander Green Lane.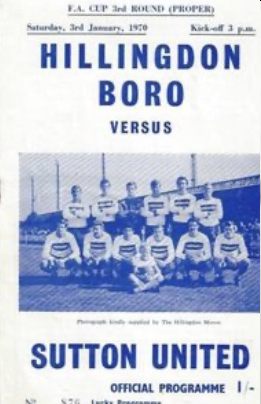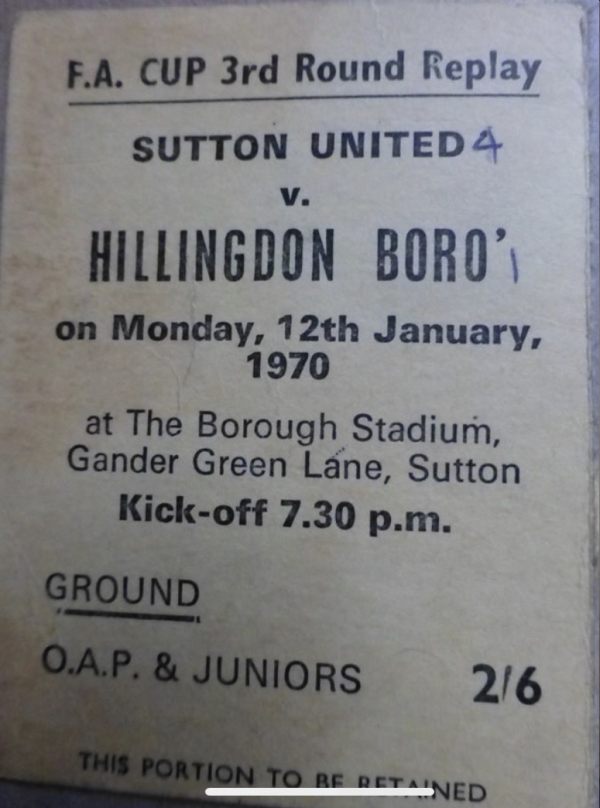 Such was the magic of the Cup then that Sutton's ground, used to home crowds numbering hundreds, was suddenly invaded by 8,000 spectators. They won that replay and all hell was let loose. Drawn at home to England's top team, they were under enormous pressure to switch the game to Elland Road, home of Leeds United. A switch that would be massive in terms of finance.
Back then, Leeds had Allan Clarke. "Sniffer Clarke". Great goalscorer. Another favourite of mine for the years that he made his name at Craven Cottage. He was the most expensive transfer in English football. Leaving Fulham for Leicester who then sold him to Leeds for £165,000! In 2017, Sutton drew Leeds again in an FA Cup match. The first time they had played each other since 1970. Billed "as a revenge opportunity". It is briefly mentioned later in the story. But Allan Clarke, by now 70, was asked to reminisce about the time he played at Gander Green Lane.
Allan Clarke: "There were none of us being rested for our trip to a non league ground. The gaffer, Don Revie, would never have even thought of giving any of the first team a break – and we would have been insulted if he had asked any of us to stand down and have a rest.
As far as we are concerned the FA Cup was and always will be in my opinion the best competition in the world.
Some of today's managers who treat it as an annoying extra match need to remember the wonderful tradition of the FA Cup. They should be ashamed of themselves the way they treat our crown jewel competition."
Words that would come to haunt him following the game in 2017. More later.
Back to 1970. The decision had been made to take "advantage" of the home tie. Bringing England's best players to Gander Green Lane and create a lifetime memory whatever the result. Back then, Health and Safety was very different to now. Sutton's last sell out match (against Arsenal in 2017) was restricted to 5,000. In 1970, they managed to get 14,000 in! How is a mystery. They borrowed seats from the Oval cricket ground amongst things. Don Revie complained constantly about how close spectators were being allowed to the touchline. The tickets went on sale and I was desperate to get one. Andrew, my son, was too young at just three. So I joined the queue that left the ground turned left, left again and right to eventually reach Robin Hood Lane. Maybe half a mile from the ground. It was incredibly good natured.
The excitement was almost unbearable. But the day dawned. I was in the ground. I woz there! No segregation then. In amongst Leeds supporters. The chap next to me a Billy Bremner fanatic. BILLY BILLY BILLY BREMNERRRRRR still reverberates in my sub-conscious. They lost, of course. Allan Clarke scored four goals. Leeds later signed Sutton's centre half John Faulkner. And Billy Bremner, Captain and arguably Leeds United's greatest player died young at 54 and is immortalised by a statue at Elland Road.
I was there and the memories are not just unforgettable, but a testament to Sutton United not grabbing the money option but bringing the greatest team in England to Gander Green Lane. If you asked me now, I could still reel off the whole Leeds team.
PS: Sutton have tasted more FA Cup Glory. The greatest result in their history was to beat Coventry City (then a top club) in 1989, who had won the cup two years before. I was there with Andrew. Then, in 2017, they drew Leeds United again in the Cup. Andrew and I (plus David) were there to see Leeds insult the FA Cup by fielding a team of reserves and get beaten. That leading to another sell out (5,000) against an under strength Arsenal who showed Sutton a lot of respect while winning 2-0.
The FA Cup today is a shadow of what it once was. All the result of the desperation of teams seeking league status and finance. I wish today's youngsters could experience a day like the 24th January 1970, when my beloved Sutton United lost 6-0 to the greatest team in England and we all went home happy with the memory.
Pathé News
This is priceless. For the older readers, just spot those famous players from fifty years ago. Sutton's were all amateurs. The captain, Ted Powell, Sports Master at my old School. Sutton County. One was a Billingsgate fish market worker – who had been at work the night before.
The match in colour:
The programme was just six pages but did have a commemorative white cover! Costing just 1/- (5p). Look at the poster. It cost me just 10/- (50p) to get into the greatest occasion ever at Gander Green Lane. A reminder that I Woz There!
Andrew Letts was the very first Mayor of the new London Borough of Sutton created in April 1965. Before that, Sutton United was a Surrey Club. Even now, after so many years, I still rail against the club being called a "South London Club"! It is, but its roots lie in Surrey, which is only two and a half miles south at Banstead.
Lighting a Candle for Diddley
– – – – – – – – – –
---