About Bobby's Girl.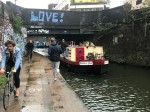 Bobby's Girl.
Love is a Many Splendoured Thing:
It can be disguised as infatuation. The dictionary describes this as temporary madness. For when the dust has settled, as it inevitably must, you could be at the start of a true romance. Or wake up, look across the pillows and think: "Oh my God. Who the hell is that!"
To be Bobby's Girl? Well, Bobby was oblivious to any of this, preferring the thrust of four Rolls Royce Olympus's in a Vulcan Bomber to any other form of thrusting.
Somehow or other he had been cornered when two females fought over him to be Bobby's Girl, and Fatty Borret lost. Weeks, months, years followed until just walking passed Ernest Jones became an ordeal. Bewildered, he bought a £25 sapphire engagement ring (1965) and his fate was sealed. It was OK. Quite nice sometimes.
Thirty five years had passed until suddenly tea room revelations revealed that two childhood "sweethearts" had jumped ship. One via the dubious back seat of a Red Vauxhall Carlton. The other between the ample vol au vents of an ageing caterer.
Bobby and Diddley could do what they liked and went swimming, train spotting on steam trains, country walks. And, inevitably looking back, a guided tour of a brewery. Returning back to Laurel Cottage that night, a little peck on the cheek became "Just one Kiss" on the back seat of a green Rover 200. Hire car.
"Crash bang wallop. What's happening."
Just one kiss.
Life never did return to normal and never will. The situation has changed but the glorious memories have not. During those heady early days Diddley couldn't stop singing and playing "Bobby's Girl". Despite her complete antipathy to the lyrics.
Bobby had retrieved his clothes from the rose bushes in the former matrimonial home and moved into Laurel Cottage. Rebuilding the interior gradually, he designed and had made her treasured Bluebird window. You are all welcome to sit on the toilet with this view.
He rebuilt the garden and started growing those wonderful sweet peas for Diddley. Scanning the seed catalogue she found one called "Bobby's Girl " and sent off for a packet. Despite her exhortations he never sowed "Bobby's Girl". Preferring buying plants rather than the much more uncertain sowing of seeds. But the real reason was that he wanted to keep the packet as Unwins never sold "Bobby's Girl" again.
And now, young granddaughter Layla can see that Bluebird window when she stays with Bobby. She lives in Godalming, close to Cattershall Lock on the Wey Navigation. Lots of canal boats.
It's now Tuesday. 2 January 2018. Wet, miserable but still the journey to Islington for his lunchtime Al Anon meeting. The afternoon, hopefully, a continuation of mindful reflection. In this case, a walk along the marvellous Regents Canal from Islington to Limehouse. The old and the new competing for nearly five miles through East London. The new is gradually winning, but there is every hope that much of atmosphere of the Canal will remain.
There is no such thing as bad weather. Just the wrong clothes. Suitably attired, a walk in the rain through the history of this special part of London is a real experience. We did it in 2016. See Islington: The Canal and Beyond. Lots to see. Loads of canal boats. Some delivering coal.
One a former Dutch tjalk sailing barge. "Elderberry". The home now of a lady commuting from Hertford.
And finally, a bit of urban "love" on a bridge looked promising for an atmospheric picture. But wait. There is a boat coming. Better for composition. Wait a bit. Bit more – and there we are.
He told the lady . "I am Bobby". She smiled and said "small world". Her spelling of Bobbie could be misinterpreted … but they are pronounced exactly the same. So who cares.
PS
Where is the picture of the famous sweet pea packet? Well, you may remember he had a massive tidy up during a heatwave. See "A Day in the Life of a Heatwave". The seeds were put somewhere safe and secure. Wonder where? They are there! Have no fear. But, in his efforts to find the packet, he found something else. He had joined the Civil Service after the Legal and General. In those days, age was no impediment to improving yourself and he went on lots of courses. Bearing in mind they were often miles away in very nice locations. Including Sheffield. On his birthday, 26 January 1999, he left Dorking in his van with his friend Anne. Both intent on learning… "How to be an Executive Officer." Ha ha ha ha. Nice campus, and a bus into Sheffield. Ponds Forge Olympic Swimming Pool every evening. Will Anne ever forget the night she landed up screaming on the flumes and then came back for more?
At the end of the course, and needing to practise new skills, Diddley turned up by train for a few days. They went to York. "Can we go to Betty's for lunch" was her predictable request. The queue to get in made that an impossibility. His response was equally predictable. "How about lunch in the Railway Museum?" "What?" He can remember the look of consternation to this day. But she went and decided she loved going back in time. Remembering those steam train journeys as a schoolgirl from Gloucester to Darlington to see her Yorkshire relatives. Handed over to the guard for safe passage. Lunch in the "Brief Encounter" cafeteria. And then, she found the working metal label machine that she remembered from years gone by. Put your money in. Turn the dial for each letter and punch it into a metal strip. Bobby remembers her excitement, but not what she actually punched on it. Until now…
Lighting a Candle for Diddley
From here in Laurel Cottage. Bobby loves the candle holder they bought in Pembrokeshire.
– – – – – – – –
---