Spitalfields 2017.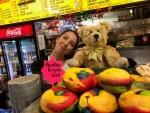 Christmas Day Morning in Spitalfields 2017.
A few years ago Bobby read a glowing book review of "Spitalfields Life". By the Gentle Author (GA). He bought the book. Took it to Skomer Island and read it avidly for a whole week. Little did he know that was the start of an adventure. Not just in words, but in footsteps. Culminating in waking up this Christmas morning in Spitalfields with just me, a teddy bear, for company.
Along the way he joined the GA's daily blog. You may like to read his promise to see if this is for you.
http://spitalfieldslife.com/my-promise/
Two years ago we lost his beloved Diddley. The months passed and he noticed in the daily blog that the GA runs courses. "How to Write a Blog". He pondered and then thought maybe this is the opportunity he had been waiting for to exploit his talkative, unrestrained nature. Two days, with twelve creative souls, started with a blank sheet. Or rather – a rough story for discussion on the course. He wrote: "A footbridge I loved". It was never used, but will reappear in 2018. The blank sheet was how, why, when, what? No idea. But talk of a teddy bear led us to where we are now. Mindfully Bertie.
The success of the blog is not gauged in figures as he doesn't even look. He loves comments. So the more the merrier. But one thing is certain. He could not have been enjoying the blog with me without the Technical Director Tim. Together with wife Tracey they were, by good fortune, on the same course as Bobby. An offer to help with the IT side of blogging was gleefully accepted. We write the words and gather together the music, pictures, and other information and set them in a rough blog. Tim does the rest. The presentation is his. We couldn't do Mindfully Bertie without him. Maybe the GA also has a team. I won't ask him. He is the figurehead. Just as I am. But thanks Tim. And Tracey. And Oakley as you sail the Inland Waterways of Britain on your narrow boat Sola Gratia. Bon voyage.
Time to get up in the Hub. The Premier Inn, ideally situated in Brick Lane. A Christmas morning carol service in Christ Church is planned but nothing else. What follows is a pictorial story of the walk before lunch in Spitalfields. Our spiritual home. With apologies for where we strayed over the border.
Walking down Fournier Street (where Amber once lived) to Christ Church, for their Carol concert. On, via various streets, back to Brick Lane for "beigels" served by the delightful Farel in the company of customer Steve. On around this historic yet eclectic maze of streets, with fleeting views of Christ Church rising majestically to the heavens. And back to the Hub. Where, if you choose, you can sign in, stay and leave without talking to another human being. How different to the seething mass of humanity that has graced Spitalfields from every corner of the globe over the centuries.
This slideshow requires JavaScript.
Lighting a Candle for Diddley.
---