April is Stress Awareness Month
Stress Awareness
Bertie: "So, you have taken on a new job Bobby! Is that wise, given your history of anxiety (GAD)?"
Bobby: "It's not a 'job', Bertie but a 'service position' within Al-Anon. A fellowship where all the roles needed to run meetings and support members are totally voluntary. No pressure. No targets. In fact, in Al-Anon we believe that doing service helps your own recovery."
Bertie: "Recovery from what?"
Bobby: "The only requirement for membership of Al-Anon is that your life is affected by the drinking of others. So much so that you, in effect, become ill yourself. Living with an alcoholic can be too much for many people to cope with. They need help. The drinker can only help themselves. Al-Anon offers friendship and understanding through the shared wisdom of those who have sought recovery in the past. Many members feel that Al-Anon has 'saved their lives' by allowing them to help themselves through the shared experience of just listening and telling their own story. Realising they are not alone. Knowing above all else that it is a safe place where anonymity is the most important principle."
Bertie: "So… tell me more about 'service' and your new 'position'."
Bobby: "Well, for example, every group needs a treasurer. Membership is free, but voluntary contributions are collected at meetings to pay for the rent, tea and biscuits, literature. There are other roles, but at its base level it could be making the tea. Washing up. Stacking the chairs. Even just turning up at a meeting is 'service'."
Bertie: "And your new service position?"
Bobby: "Public Information Coordinator for the area of London in which I have been a member for many years. You have been to meetings at Christmas time."
Bertie: "They made me really welcome, Bobby. So am I a member too?"
Bobby: "Of course, Bertie. You can help in my new role. In Al-Anon we believe we have discovered a fellowship that can really help people whose lives are blighted by the effect of alcohol on their family, friends and acquaintances. And yet, far fewer people have heard of us than, for example, AA (Alcoholics Anonymous). We would like to 'attract' more people to share our experience. But, just like AA, we do not want to 'promote' by advertising and the like. It might be helpful to quote some of our 'Traditions' that, together with the 'Steps', are the foundation of Al-Anon worldwide:
Tradition 10: The Al-Anon Family Groups have no opinion on outside issues; hence our name ought never be drawn into public controversy.
Tradition 11: Our public relations policy is based on attraction rather than promotion; we need to always maintain personal anonymity at the level of press, radio, films and TV. We need guard with special care the anonymity of all AA members.
The role of public information coordinator is to share and look for ways of spreading the Al-Anon message to attract those who may be able to benefit from our experience."
Bertie: "So how can I help?"
Bobby: "You already are, by allowing this article on stress awareness to be published in Mindfully Bertie!"
April is Stress Awareness Month
Alcoholism is a major cause of stress. For the sufferers and their loved ones.
As Public Information Coordinator, he would like to encourage everyone within his area of Al-Anon to spread the word. In reading this article, you now know that there is a fellowship that can help you face the stress created by alcoholism. It is gentle and loving. Full of people who care about each other. As, indeed, they care about the drinkers.
Bobby truly loved Diddley and still does. It was heartbreaking and very stressful to see the grip the disease had on her. Many people do not understand the compulsion that exists. If you need help, Al-Anon may be able to help you. If you would like to hear Bobby's story through Al-Anon. he is always available to help.
Can always arrange to meet organisations who would like to know more. The principle being 'attraction' rather than 'promotion'. Or just go to the Al-Anon website and seek out a meeting convenient for you.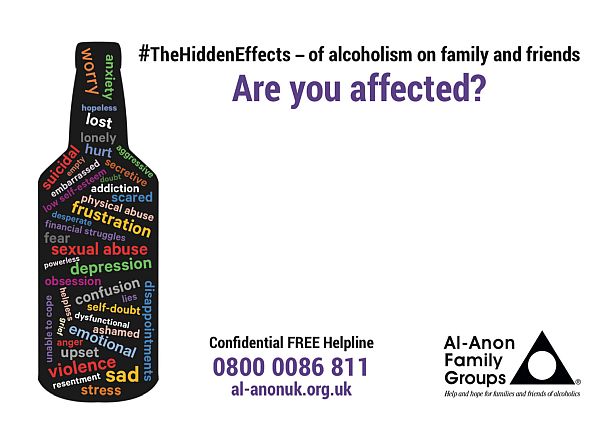 Footnote
Van Gogh and Bobby both have a 'Grey Felt Hat'. They also suffered from anxiety in a variety of ways. Van Gogh used creativity to help him through life. So does Bobby. He also has me, Sutton United, friends and family. And Al-Anon.
How to Cope with Stress
Lighting a Candle for Diddley
– – – – – –
---