Covid-19 Guided Walk for One. Number 9: Gower – the Walk over Rhossili Down.
Number 9: Gower – The walk over Rhossili Down
This is probably the simplest walk ever described in Mindfully Bertie. On a day like that one in September 2020, it is quite simply sensational. It is a walk that really demands a fine day to take advantage of the spectacular views in all directions.
Starting at the National Trust car park
Leave the NT car park on Rhossili Down and head towards the church. It was closed, but has a poignant memorial inside to Evans. A Rhossili man, who perished with Captain Scott on that ill fated adventure to the South Pole.
The coast path is signposted by the churchyard follow it a short way to the foot of the Downs.
You now have the big choice. Climb up, over and down returning along the foot or vice-versa. We chose up. It's a steep climb that reveals more and more distant vistas the higher you go.
There were hang gliders. You could see Tenby and the Pembrokeshire Coast. Lundy Island. England along the Somerset and Devon Coast towards Ilfracombe. Across the back of the Gower you could see Llanelli Bay, Llanelli, Swansea and the Black mountains and Brecons of distant mountainous Wales. Follow the path that has one or two useful arrow markers all the way along the top and back down again to the back of a caravan site. Once again you have a choice. Turn left along the grassy track and you are on the coast path at the foot of the Downs and above the beach. But note, there is no access to the beach from it. It's a lovely walk but, if your preference is to walk on the beach itself, turn right along the grassy track to the entrance to the caravan park and find an access to the beach. Either way, the last section of the walk is uphill back into Rhossili.
Click on the picture. Turn the sound off and relax.
The glorious panorama from the trig point: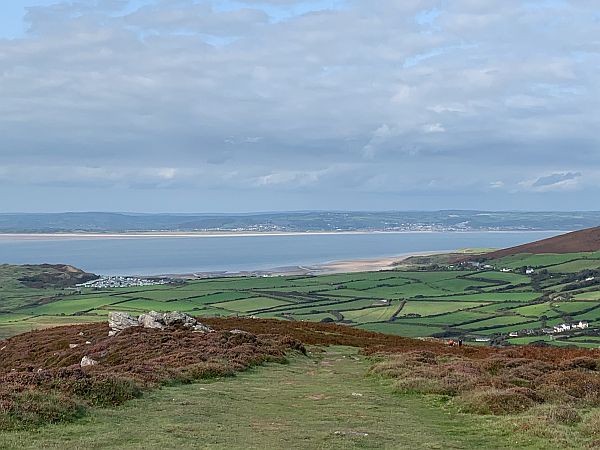 Lighting a Candle for Diddley
– – – – – – – – –
---