Grass. Part 2.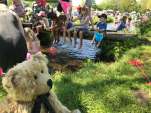 Grass. Part 2.
A Compendium of 2018 Grass.
This slideshow requires JavaScript.
Musical Grass.
The Green Green Grass of Home.
Tom Jones
Elvis
or even Jerry
Or Joan
Tom Jones was the biggest hit, but the others betray the country origins. For me, the King has it.
Lighting Candle for Diddley
Here in her home . A house and garden with no grass at all!

– – – – – – – – –
---