Wisteria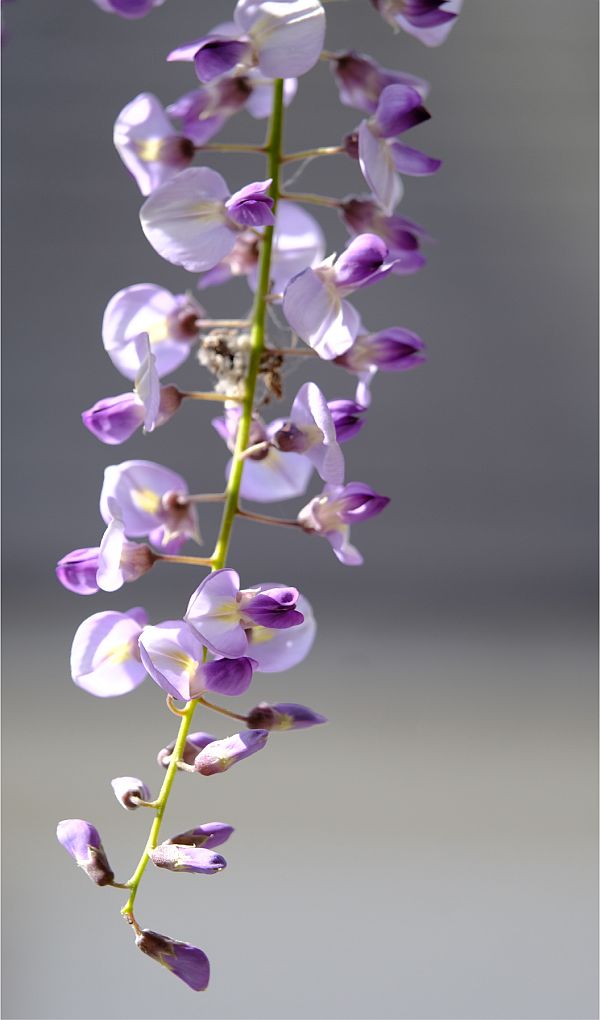 There is something majestic about Wisteria. Each year, in May, these fantastic plants come into their own. There is no other plant quite like them. In Japan and China where they originate they have assumed mystical qualities and have been turned into quite incredible exhibitions of creativity.
Here in England they epitomise glorious old cottages. Wisteria arches. Even tunnels at Wisley gardens. Draping them in pendulous racemes before the roses take over. And when the flowers have completed their short but glorious interlude the leaves take over to clothe a building in green. And then autumn comes and the leaves turn golden brown and fall leaving masses of hanging seed pods.
The flowers are highly scented and attract the bees as you will see in the final picture after the slide show.
If only it were that simple. When we came to Laurel Cottage in 1999, the house looked very different. The Wisteria was probably five years old since planting and turned into a scrambling mess of branches that had invaded the loft. No flowers. Just an unruly tangle.
The garden was as much an all consuming project as the house. The Wisteria was there and alive. It needed a massive amount of TLC this last twenty years to get to where we are now. So we cut it right down to a bare minimum of shoots.
The following summer, Bobby installed training wires right round the upper elevation of the house. A big job, involving dozens of vine hooks that had to be drilled and rawl-plugged into the wall at two feet intervals vertically. Miles away from where the present growth was. It was then a case of training shoots into the wires.
As each year passed, the shoots reached a bit further until they reached the top level and all three elevations of the house. South, West and North. The aspects mean that there is a delay in flowering between front, side and back before the whole spectacle is one.
So there we are. Years of work to get where we are. Sit back and have a cup of tea. Taylors fruit tea preferred. How wrong could you be! You have created a masterpiece that can easily become a monster. An ogre ready to take over your house. Invading nooks and crannies and so easily reverting to a tangled mess.
Be warned. Having a Wisteria comes with a health warning. A plea from Andrew, Bobby's son, to be very careful with the pruning and please spread it out over a few days. Twice a year. The main one being in February.
The three stage ladder comes out and every single shoot is cut back to two or three buds. Some shoots taken out. Some trained in more effectively. All up a ladder. The hardest bit being moving the ladder. Bobby fell off a ladder thirty years ago and woke up in hospital with broken ribs and lived to tell the tale.
Now it's always wear the proper clothes. Choose appropriate weather. Don't rush. Later in the year, this incredible plant will start chucking out whips that can soon be ten feet long and get in the loft. For those, he has a telescopic arm pruner.
Even the branches of Wisteria are amazing. Ours is still quite young. Very old ones often have incredible gnarled trunks. Even with our one, just look at the pictures to see how those thin whips have grown. Why it is so important when you install training wires or trellis, or whatever, you realise that one day those thin shoots will be mighty branches.
From the pictures, you will see that this is a twining plant. If you twine together when young, you may get very interesting creations a few years later. And finally, how do you know if you have a Japanese or Chinese variety? Look at the pictures. Japanese twine clockwise. Chinese anti-clockwise. Ours is of Japanese origin.
We could have show you loads of pictures of fabulous Wisterias, but we are confining the slide-show to just one. Our pride and joy here at Laurel Cottage. And the Dawn Chorus.
Wisteria Slide-show
This slideshow requires JavaScript.
Lighting a Candle for Diddley
—————
---