Johnny Haynes: Captain of Fulham and England
Johnny Haynes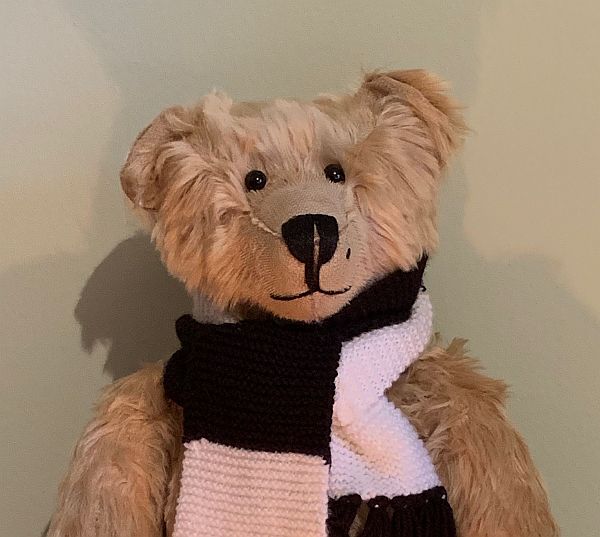 Bobby: "I am a writer. Good, bad, indifferent, rubbish, eloquent. I write and am, therefore, a writer. When I see other writing that inspires me, I don't think 'I wish I could write like that' because maybe I already do. Some writing takes you back, as if by time travel, to a world once so familiar that you had forgotten just how wonderful it all was. Back in 1996, an article on Johnny Haynes was written by Michael Parkinson. First and foremost a journalist and sports writer, before his fame as a TV interviewer. The article follows. I was taken back to Craven Cottage. Home of Fulham Football Club. I kept the article and, years later, got Diddley to laminate it."
The first 'big football match' Bobby went to was with his Dad, to Sutton United in 1954. His local amateur team. He still supports them to this very day. Is a season ticket holder (thanks Andrew). And has featured them in Mindfully Bertie.
But he soon yearned to see really 'big football'. The First Division beckoned. Now the Premier League. Living in North Cheam, most boys gravitated towards Chelsea. And, at fourteen years old, he finally went on his own to Stamford Bridge. Home of Chelsea Football Club. Chelsea v Blackburn. 1958. In a fog. Bryan Douglas was playing for Blackburn that day. A very famous England international. There were over 60,000 at the game. Chelsea lost. The journey and the crush to get back home was memorable. Fulham Broadway Station, with all the shop windows boarded up. Not vandalism, but the threat of the crush being pushed against plate glass windows. That and the Police on horses shepherding people into a funnel into the station. For a fourteen year old young boy on his own, it was pretty unnerving.
Undaunted, he persevered and decided to go to Fulham Football Club the next week. Riding high in the Second Division, they managed to lose that day to Swansea Town. Less than half the Chelsea crowd. A much nicer situation by the River Thames. In those days open to the river, so you could turn round at half-time and watch the boats. The journey a 93 bus from home to Putney and a walk through Bishop's Park by the Thames. A much posher part of London, almost genteel.
Fulham, a club then as famous for its celebratory supporters and chairman as the players. Tommy Trinder, comedian, was chairman. And one of England's most famous players was captain. Johnny Haynes. Bobby just fell in love with Fulham FC. If he had stayed with Chelsea, he would have witnessed unbridled success, affluence and the real big time. Even winning the European Cup. Instead, he chose just one and a half miles away down the Fulham Road. A much more modest history, with as many downs as ups. But that's love for you.
He watched Fulham regularly for the next fifteen years. Cycling much of the time. Leaving his bike in the garden of a 'bike house', where the garden had been given over to cycle racks. Just 6d (2½p) to leave your bike there. He saw all the famous players of that era. An era brought back vividly to life by Michael Parkinson. Bobby rarely goes to Craven Cottage these days. Preferring the National League and Sutton United. But Fulham will always be his team. As he writes this, Fulham are home to Chelsea this afternoon. (They lost). Once again at opposite ends of the table. Today with no spectators at all.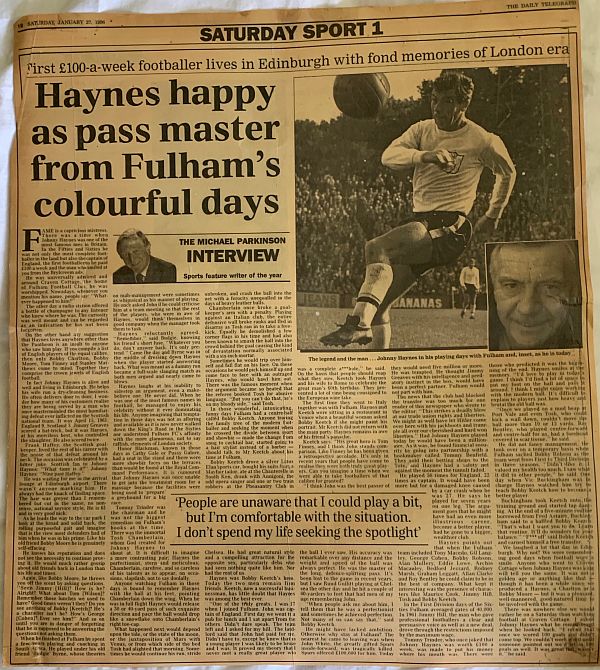 Here is the article. Click on the link to read a transcribed version.
And here we are in 2021. This coming Wednesday, 27 January, that article will be 25 years old. Making it an historical document in itself describing history over thirty years previously.
Friends sometimes express amazement at just how much 'stuff' Bobby has. And he has!. But, if you have a good memory, you will remember the heatwave blog in 2017, when he sorted all his memorabilia into IKEA boxes. And that's where most of it still is. In categorised boxes. But the article was so special he treasured it. As soon as he and Diddley got together, she laminated it for him. Since then, it has adorned the wall of the garden room. He always knew he wanted to tell the story and that day has finally come.
Johnny Haynes died in 2005. He suffered a brain haemorrhage, while driving in Edinburgh and crashed. The brain haemorrhage killed him before the crash. A statue was erected to him outside Craven Cottage in 2008. A fitting tribute to 'The Maestro', as he was always known.
Scrapbook
Match of the Day Fulham v Manchester United
Johnny Haynes obituary in the Independent.
And here is one more movie. Fulham won this game in 1958 and found themselves in the semi-finals of the FA Cup. A really big deal in those days. They played Manchester United, and the rest of the world too. Just weeks after the Munich Air Crash that decimated the 'Busby Babes'. On a wave of emotion everyone wanted to see Manchester United win a fairy tale FA Cup. They finally got past Fulham after a replay. but lost to Bolton Wanderers in the final with Nat Lofthouse scoring both goal. In the movie you will see both Johnny Haynes and Tosh Chamberlain. The latter a real character and the main reason Haynes went to Fulham. As we were writing this story Fulham announced that Tosh Chamberlain has died.
Today
Lighting a Candle for Diddley and Tosh Chamberlain
– – – – – – – –
---