The 93 Bus
Bertie: "Bobby? What's a heritage bus running day?"
Bobby: "It's when a group organises a bus service on a particular route using old fashioned buses. They run to a timetable and mingle with the modern buses. You could be waiting at a bus stop and a 70 year old bus turn up and you just jump on. Free – there will be a bus conductor in old fashioned uniform ding-a-linging to stop and start the bus. Help you on. Just as they did when I was young."
Bertie: "Your friend Alan, from Brocks Drive in your school days, just told you they were doing a running day on the 93 route on 9 October. But we will be in Suffolk."
Bobby: "I know and I am so disappointed. The 93 was the bus of my youth. The one that took me to Putney Bridge and Fulham Football Club. Wimbledon Common and the Wombles. Morden Underground to get the tube to London."
Bertie: "Not only that, Bobby, but Sutton United are playing Port Vale in the afternoon for the first time in 123 years. No Premier League games on, and a big crowd expected. And sunshine is forecast."
Bobby: "Oh dear oh dear oh dear. Think, think, think."
Bertie: "Listen! I don't want to go on the buses or football, but me and the other bears are really looking forward to Suffolk. So here's the deal. Go on your buses all morning. Go to football. Go to bed early and we can be in Suffolk for elevenses on Sunday."
And that's what we did.
The 93 Running Event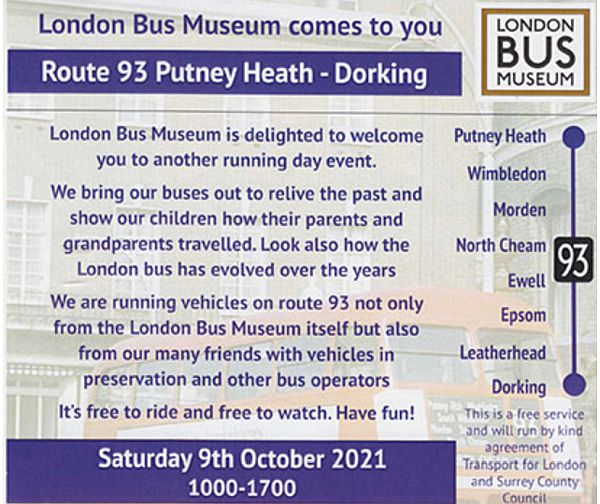 Was organised by the London Bus Museum at Brooklands. Using some of their own buses, together with those of their friends in private ownership. Over thirty expected. The timetable even showed which bus was operating at a certain time. Every ten minutes the service was 'heritage'.
Bobby spent all morning riding between Putney Heath, Morden and North Cheam. RTs and Routemasters. Putney Heath was the northern limit, as driving down through Putney High Street to Putney Bridge was considered too disruptive.
The 93 Route
Was originally conceived in 1924. It went through many changes, but wartime ensured that the route became Putney Bridge to Epsom with a Sunday service from Morden to Dorking. In 1970, it finally terminated at North Cheam, Priory Road. And stayed that way ever since The Dorking service ended in 1960.
Two movies for you
RT1705 (built 1950) to Epsom:
RT1 to Dorking:
Distraction!
Sutton United
Down to meet David at the Priory café for pre-match scrambled eggs. (Tradition). On an RT!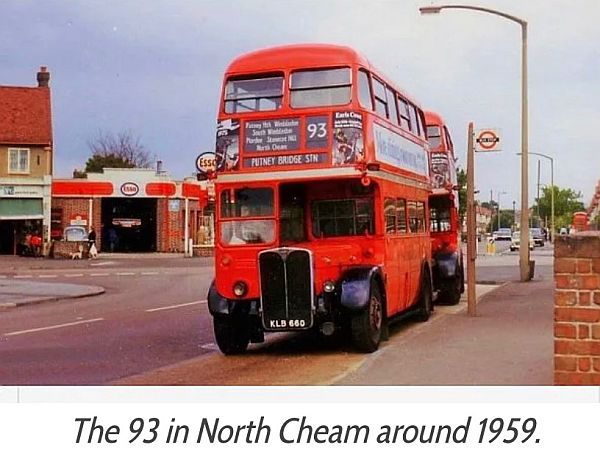 Fifty one years between the pictures. And noting that these wonderful heritage buses have all been restored. Sometimes over years and enormous expense to get them to this level of magnificence.
0-1
0-2
1-2
2-2
2-3
3-3
4-3 (91st minute)
3,900 watched, including 500 from Port Vale in what was possibly the most exciting game we have ever seen at Gander Green Lane.
Thanks Bertie. It was a perfect day.
Lou Reed:
Lighting a Candle for Diddley
= = = = = = = =
---