The Wonderful Great Little Trains of Wales.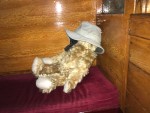 The Great Little Trains of Wales.
The Great Little Trains of Wales are simply wonderful. They are everybody's childhood dream of what a toy railway should be. They are Thomas the Tank Engine in miniature.
They mostly have fascinating histories of bygone days, when the original purpose was quite different to now. Some are born of the industrial revolution. Some the very first seeds of the conservation movement. All at some stage have been closed, left derelict and been rescued by determined individuals and groups. They have now reached a halcyon age in the restoration and preservation of what are now treasured holiday destinations. You can travel on them to some of Wales' most glorious scenery. They are history. They are steam and they are quite simply unadulterated fun. And they will forever pose that question of what do you throw away or allow to fall to bits at your peril?
When we headed north from Gigrin Farm (last week's blog), we were heading for Blaenau Ffestiniog. A living, thriving town bearing the scars of a magnificent industrial past. Once the capital of the world, if slate was your master. A town hiding the horrors of industrialised Britain, where vast fortunes were made by the few at the expense of the workers. Like so many enthusiasts before him, the next four days were spent on some of those exquisite railways. Each one with its own history. It's a big subject, so this is just an introduction to some of the Great Little Trains of Wales.
The Ffestiniog Railway.
Is famous the world over. From Blaenau Ffestiniog to Portmadoc. Narrow gauge enables railways to go round tight bends. Clinging to the contours, rather than smashing their way through them. Fourteen miles through the mountains on a continuous gradient down to the sea and the ships to take Welsh slate to roof the world. Originally by gravity. The empty wagons were pulled back to Blaenau by horse. Innovative steam came in and finally the railway built and still builds its own engines and carriages. The rebuilding project is legendary. Over many years volunteers came from all over the place to work on restoring the railway. Including our very own Technical Director Tim…
Tim: "I spent two fortnights on the "Ffesters". 1976, and 1977. Two very contrasting years. 1976, the very hot and dry summer. Elton John & Kiki Dee topping the charts. 1977 very cold and wet. Somehow or other, I heard that the Inter-School Christian Fellowship were running a two-week camp during the summer holidays. I signed up straight away. We arrived at "Tunnel Mess", a large wooden hut by the old tunnel. This section of line had been closed thanks to a Hydro Electric scheme flooding part of the former trackbed. From here, we spent two days out of three working on the new Tanygrisiau station on what was known as the deviation. The third day was a rest day. Usually spent riding on the trains (free, because we were "deviationists")!
And here my love of the Great Little Trains of Wales started. Wandering around Portmadoc, I spent a lot of time browsing in Cob Records (and purchased the John Miles single "Music"). I also stumbled upon the Welsh Highland Railway – or rather, what was left of it, which wasn't much. I subsequently discovered, upon stumbling across Fayles Tramway, near Corfe Castle, that a steam locomotive "Russell", had operated on both! Small world indeed.
Although Tunnel Mess was only a wooden hut, built to accommodate volunteers, I was deeply saddened to discover that it had gone when we revisited the line again more recently. I have many happy memories of that place. At that time, there was still track back to Dduallt station, along with a hand-pumped trolley, used for bringing up supplies. Of course, something like that in the hands of a group of teenage boys provided hours of entertainment.
When Bobby dropped Ffestiniog into the conversation, I happened to mention my time volunteering on the line. Naturally, I was instructed to write. Did I have photographs? Funnily enough, not long after, I stumbled across a box of slides labelled Fester '76. I seem to do a lot of stumbling! They need to be scanned, but I have promised to do a guest blog in the future."
for the action…
The Welsh Highland Railway.
Is linked now as a business venture with the Ffestiniog. Sharing the enlarged Station at Portmadoc. A truly unlikely venture not so many years ago. Bobby remembers walking through derelict tunnels above the Aberglaslyn falls and dreaming how wonderful it must have been a long time ago. Well wonderful it is now. Over two hours through Snowdonia. Unlike the others, this has been a big money project from the start. With a lot of corporate assistance. And, despite being narrow gauge, giant Garrett engines repatriated from the empire now steam through Wales.
www.festrail.co.uk (combined with Ffestiniog)
for the action…
The Fairbourne Railway.
Is quite different. Built for the tourist trade as a seaside railway. It has a fascinating history. Riding on it gives you a very nostalgic feeling of holidays gone by, when the world was a simpler place. It has wonderful views of the Welsh mountains, including Cadair Idris. As you can see, our day there was the only wet, miserable day in two weeks. But, look at the website to see it on a sunny day.
for the action…
The Talyllyn Railway.
This Railway is a special place for Bobby. A true Thomas the Tank Engine, Dinky toy railway. It is exquisite. Another slate railway, it became the very first railway in the world to be preserved as a heritage railway by volunteers. In particular, it has the most exquisite restored ancient carriages. Late afternoon, on the same damp day as the Fairbourne. Last train of the day. Driver and fireman both ladies. And in carriages built for the Talyllyn in 1866. The engine may have been called Peter Sam after the Thomas story that the Rev Awdry actually based on the Talyllyn. Contractual concerns with those who own images led to the face being that of a Talyllyn stalwart. Not Peter Sam. We rather like his sneering look. Particularly when a tree branch blocked the line late in journey. The train was reversed to Aberganolwyn. But the signalman had gone home. And I went to sleep in a carriage 151 years old. We disappeared into the tearoom while they sorted the muddle out. Added to the fun.
for the action…
Welshpool and Llanfair Light Railway.
Over the years, Bobby passed this Railway on many occasions on the way home from Welsh holidays. Never enough time to stop. Others in the car impatient to get home. His old age, freedom and the return of the sunshine allowed him to spend hours on it and get home rather late. It was a "Victorian Weekend". The Victorians present were actually steam punk, I gather, and good fun. On the journey to Welshpool, the tank engine was going backwards, with us standing on a balcony as close to an engine as it is possible to get. We shared the journey with a family from Ulm in Germany. Kristof, Hatmut, and seen here with her cat Kiki is Tabea.
for the action…
Vale of Rheidol Railway.
From Aber (Aberystwyth), the Vale of Rheidol Railway was the first of the Great Little Trains of Wales that Bobby encountered. On honeymoon in 1966. (see last week) At that time, marketed as the last steam railway on British Rail. Now in safe private hands but, on this holiday, there was no time to ride on it. The car journey to Gigrin Farm is an outstanding unclassified mountain road from the terminus of the Rheidol railway at Devils Bridge. So naturally we dropped in.
for the action…
---
This is a snapshot of what is now a major part of the Welsh tourist industry. That is why the last and most dramatic restoration, The Welsh Highland, was undertaken. There are five more Great little Trains listed at:
www.greatlittletrainsofwales.co.uk
for even more action…
Bobby: "The last five weeks of this blog covered just 17 days in Wales. One wet day, so don't listen to those who maintain that it always rains. I am privileged in having found my heart's desire. Since bereavement came when we lost the lovely Diddley, I have been to many places. All over Britain, and those Continental Train Trips around Europe. Paris, Venice, Rome et al. Bereavement brought freedom. And yet, ask me where I would rather be on holiday and it will always be Wales. Some of you might wonder why I never "emigrated". The answer being it's an escape. I would never live there. Totally defeat the object. Anyway, Bertie and I love the Surrey Hills. And you, dear Bertie lovers."
Lighting a Candle for Diddley.
Bobby is always looking for ideas to Light a Candle for Diddley. So why not the most famous in the land. Westminster Abbey. By coincidence, he walked in just ahead of choral evensong. Sat in one of the most famous choirs in the land. And lit a candle near where Elton sang. Unforgettable.
---