A Tale of Gigrin Farm, Radnorshire.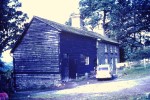 Gigrin Farm, Radnorshire.
One day in June 1966, a young lad of 22 got married. A few weeks later he set off on a big adventure. His honeymoon to a far off land. In his even younger days, all his adventures had mostly been by bicycle. Youth Hostelling round the south east of England and East Anglia. Pursuing his favourite hobby. Plane spotting. He had also developed an interest in the natural world and birds in particular. You often saw skylarks at aerodromes… And he travelled across the sea to the first of his beloved islands. The Isle of Wight. By paddle steamer.
Bobby: "My dad loved paddle steamers. Many years later, Diddley and I went round the Isle of Wight on the Waverley. The last seagoing paddle steamer. What memories came flooding back!"
The Ryde. Pride of the fleet. 1962. Now a rusty hulk up a creek on the island.
We went on coach trips on the Island. Paul's Coaches of Ryde, where the driver sang all the way to his passengers. One memorable night to Gurnard to see the Queen Elizabeth arrive. A long way off, the great liners had to zigzag into Southampton water to secure the deep water channel. We stood on the beach that evening and watched that great liner, but noted the driver's warning that a few minutes after passing there would be a high wave of wash. The next day we went on a boat trip to Southampton water to see the Queen close up.
But an adventure to a far away land was far more exciting than the honeymoon itself. A land of mountains, forests, dramatic rivers and mythical birds. And narrow gauge steam railways. An adventure by Black and White Coach from Victoria Coach Station in London to the Land of our Fathers. WALES. A love affair that started on that honeymoon and continues to this day.
Bobby's beloved mother-in-law, Mary, was Welsh. And proud of it. Coming from Radnorshire. Growing up on a farm, walking miles to school each day. She was effectively banned from ever speaking Welsh at a time when they tried to kill the language off. She lived on a farm near Water Break its Neck. What a great name for a waterfall.
Radnorshire. A border county with England. She had left in her youth to seek her fortune far east with Eva Brick. Her friend. She found work in the Cock Hotel in Sutton. A husband. Had five children. And now one of them had married Bobby. It was only fitting that he should want to see for himself the land of all the stories she had told him. Holidays to Wales had come and gone in Mary's younger days, but in old age she didn't go back.
But in 1966 Bobby did. By coach to Rhayader. A market town in mid Wales. Staying at Gigrin Farm. Picked up in a Land Rover by Eiffryn Powell, the farmer. With no car, and just one bus a week to "Aber" ( Aberystwyth). It was a walking and thumbing a lift "honeymoon". The Elan Valley Lakes and dams. The Vale of Rheidol narrow gauge railway from Aber (see later blog). A land of mountains. But when he left, he had not seen that mythical bird. The Red Kite. But he kept the view from the bedroom window down the Wye Valley forever as the first time he had been "abroad".
The years went by, as did many more holidays in Wales. Sometimes passing the lane to the farm, but never going up it. Camping nearby at Llanfihangel nant Melan with son Andrew and an old Ford Cortina. Crossing the River Wye on those rickety suspended footbridges. And still never seen a Red Kite.
Until 1995. The weekend Daily Telegraph ran an article on the Red Kites of Wales. A great success story of years of protected breeding, and one particular site that started encouraging the birds down by regular feeding. That site had become a public access place, with hides built in cooperation with the RSPB (Royal Society for the Protection of Birds) who had asked the Powell family to set up the feeding station. It was THE place to see the mythical bird. It was GIGRIN FARM!
Bobby rang the farm. Still the same family. The son Chris, a toddler in hospital in 1966, now running the show. Before you could say Bob's yer Uncle, Bobby was off in LWV. (Little White Van…. A future blog). Bicycle in the back, he cycled round the Elan Valley. Stayed in the former matrimonial bedroom. And was mesmerised by the Kites at feeding time. Later, he took Diddley, but they stayed nearby at Llandrindod Wells for decorum. And now in 2017 he was back…
As with all things seemingly wonderful, there is a debate about the legitimacy of feeding wild birds of prey. Interestingly, Red Kites are a familiar sight now in southern England due, initially, to controlled reintroduction of foreign birds. Gigrin Farm maintain that through DNA testing they have proved that all the Welsh birds are descended from one Welsh female. Whatever the ethics argument may be, we are on the side of a fantastic daily spectacle that may encourage more people to care about the world around them. Or, at its most basic, 75 pounds of prime beef for two or three hundred Kites, Ravens, Buzzards and smaller birds. Or, the old bird table tale. What happens if you stop feeding them? Well, all birds are opportunists. They would just go somewhere else.
Gigrin Farm 2017
Click here to see what it is really like today at Gigrin Farm. The large birds on the ground are buzzards plus one injured kite. Otherwise kites do not land but grab their food from the ground or other birds:
Lighting a Candle for Diddley.
Bobby belongs to the Civil Engineers' Walking Club. If there is an opportunity to remember Diddley by going in a new church on one of their walks, then he does. There was no candle facility at St Paul's Woldingham, so the lady in charge went and got one. Thank you. I wish we had had time for the tea and cake!
---
---