Three go to Dunsborough Park Gardens.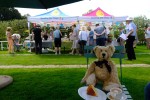 Three go to Dunsborough Park Gardens.
We absolutely loved Dunsborough Park Gardens.
I loved the statues (see Information below).
Anne and Bobby loved the flowers.
We all loved the "Secret Gardens" which are hidden seemingly round every bend. Through each gap in a hedge.
And… we really loved the refreshments provided by the day's charity. Shooting Star Chase Children's Hospice Care.
These opening times were for the National Garden Scheme. (NGS) special openings. There are other openings during the season that can be found on the Park website.
www.dunsboroughpark.com/events-functions
For those interested in the history of this beautiful garden, the following also came from the website:
DUNSBOROUGH PARK RIPLEY : GARDEN HISTORY AND INFORMATION

Welcome to Dunsborough Park Gardens.

Dunsborough Park, Ripley, Surrey dates back to the dissolution of the Monasteries when the lands of Newark Abbey were given to a local nobleman. The farmer taking over the land built a farmhouse around a single central brick chimney which has now grown to become Dunsborough House. The gardens were laid out in the 18th, 19th and 20th centuries. Re-opened to the public in 1997 after being restored by garden statuary dealer , Dolf Sweerts de Landas Wyborgh and his wife, Caroline, this magnificent 100 acre estate comprises a series of historical gardens brought to life by vistas and garden architecture.
The Gardens
We have just so many wonderful pictures of Dunsborough Park Gardens. Sit back and enjoy the rest of the show!
Phew! How about a cup of tea before the secret gardens?
We went last Saturday, on a glorious sunny day when the refreshments were provided by Shooting Star Chase Children"s Hospice Charity.
Now Anne and Bobby have a legendary appetite for cakes. You should have seen the look on their faces when they saw a sea of home made cakes set out for the visitors to enjoy while supporting the charity. They were so popular, and the scene so reminiscent of a posh garden party, that we half expected Her Majesty to walk round the corner. It was so warm that they had to indulge in elevenses, onesies and threesies! In cake!
The Secret Gardens.
This is my interpretation of what came next, and not called "Secret Gardens" by the owners.
And the glorious mixed tulips meadow:
Lighting a Candle for Diddley
You will see from "information' above that Dunsborough Park is built on the lands of Newark Abbey. The ruined abbey can still be seen close by across the water meadows of the River Wey. So this week, we are lighting a virtual candle looking back over the centuries.
– – – – – – – – – –
---